By Steve Keenan, Co-Founder, Travel Perspective
DARREN Cronian is currently in Kuala Lumpur. He's been a digital nomad since 2015 and Malaysia is his favourite of the 25 countries this Yorkshire boy has lived in.
"KL is a mix of cultures with great food, fast internet, and choice of Airbnb. There are tons of coffee shops and co-working spaces while public transport is reliable and it's easy to connect to other cities. It's a brilliant base for the rest of Asia.
"The team I work with is in the UK. When they come online at 9am, it is the evening for me, so I have the day free to explore, dine out and enjoy the city I live in. I also rate Seoul, Busan, Bangkok, Prague, Berlin, and Malaga as great places to work for various reasons. All have fast internet, excellent public transport, and lots to see and do outside work."
Darren is in IT, a Quality Assurance Specialist working for Fortune 500 and SAAS companies. And his experiences garnered in the past eight years encouraged him to set up The Remote Hive during lockdown, a site designed to help others wanting to work remotely. The site and podcast now generate 40% of his income, contracting the rest.
---
Join us at World Travel Market London
The market leading travel and tourism event brings the whole world together in London.
Join us from 6–8 November 2023 at ExCeL London.
---
And his target market is not limited to a few individuals. Dave Cook, a researcher who has studied digital nomadism for a decade, puts the number of digital nomads from the US alone at 16.9m, an increase of 130% from the pre-pandemic year of 2019.
His research goes as far as to suggest that the phenomenon is reshaping cities, such as Chiang Mai in Thailand, dubbed the digital nomad capital of the world. "The Nimmanhaemin area brims with coffee shops, co-working spaces, Airbnbs and short-term lets affordable to people on western wages but out of reach for many locals. A surge in digital nomads is pricing out local communities around the world."
Working remotely was normalised by lockdown, enabling a new class of digital nomads or techpats (remote technology workers) to broaden their horizons. And ready to welcome them were destinations that relied heavily on tourism, or were visitor dependent regions of a country, such as Goa (India) and Bali (Indonesia).
Estonia was the first country to formulate a digital nomad visa (DNV), which allowed foreign workers to stay in the country and work remotely for a company abroad. More than 50 countries now offer DNVs for a year, sometimes longer.
In the Caribbean, Barbados was the first to react. Within the first ten months of 2021, its one-year Welcome Stamp attracted 2,500 applications, mainly from the US, Canada and UK. It took in US$6m in fees and brought at least US$100m worth of tourism revenue.
As a rule, digital nomads (like any foreign resident) become tax residents in the host country after 183 days. So they bring economic benefits (tax and local consumption) and boost innovation: some may eventually choose to become resident and create new businesses – all at no cost to the host country.
Most DNVs require proof of employment or a contract and evidence of a minimum income. Freelancers can also apply but prove they have clients with work. DNVs take various forms but allow a period of stay longer than usual tourist visas. Benefits might include a financial code to make it easier to rent somewhere, open a bank account or buy a car.
It's an attractive proposition for both parties, says Darren, who left the UK after working 24 years in IT for Leeds City Council. "The cost of living in the UK has spiralled out of control since I left, as has the quality of living.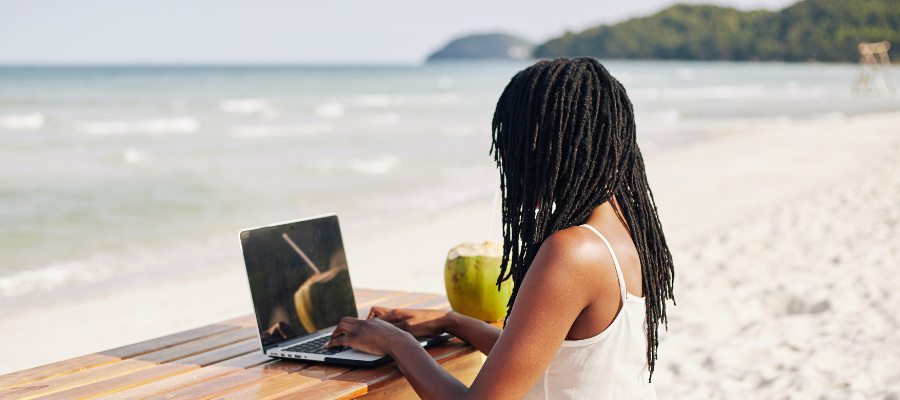 "For the same price I am paying for rent in the UK, I can live in a bigger apartment with use of two or three swimming pools, a gym, a co-working space with a coffee shop, restaurants, and everything you need to live comfortably on your doorstep.
"We bring in so much more income to a destination than tourists. Countries have seen the demand and introduced nomad visas, which is brilliant. That said, a concern is that locals will be priced out of accommodation in major cities, and you can already see some fightback from locals in cities like Lisbon."
Accommodation pricing is also an issue in Dubai, the only state in the Middle East to jump in so far. It launched its one-year remote working programme in 2020, and has had 30,000 applications since. It costs £500 to apply (non-refundable) and applicants must provide proof of a £2,850 monthly income in foreign currency. But that minimum income level does not even cover the average monthly accommodation in Dubai (£2,970). So to try and stay competitive with other destinations wooing digital nomads, Dubai last month teamed up with Airbnb to broaden the range of accommodation.
---
Get the latest travel insights delivered straight to you
Sign up to receive the WTM newsletter and get updates direct to your inbox.
---
Tracey Johnson, who runs the Nomad Girl site, tips Georgia as one of the most receptive countries. It requires remote workers to prove an income of £1,600 a month. "It's one of the most attractive digital nomad visas: easy and fast, does not require visa runs plus the cost of living is as low if not lower than some other digital nomad favourites."
She says that when first writing about DNVs three years ago, 21 destinations took part. Now it's 54 and growing, with 20 in Europe, 10 Caribbean and 11 in Latin America (including Argentina and Colombia this year). Cape Verde, Namibia and Japan are other new entries.
The number of remote working jobs is slowly declining, as firms insist on more office time, says LinkedIn. But its data shows demand is still there. In August 2022, 63.6% of job applicants applied to at least one remote job, increasing from 40% in August 2021 and 22.7% in August 2020.
(Only one country dropped its DNV scheme in 2023 (https://nomadgirl.co/the-cayman-islands-digital-nomad-visa-global-citizens-concierge/). The Cayman Islands had targeted high-wealth individuals in the US with an annual $100,000 income help offset loss of tourism revenues. Now visitors have returned, and covid restrictions relaxed, the usefulness of the DNV has become less).
Tax havens aside, mainstream tourism destinations continue to innovate in trying to attract digital nomads. Spain upped its game in February, granting non-EU citizens the chance to live and work for up to five years. It is open to people who work remotely for non-Spanish companies, including both self-employed freelancers with multiple clients and workers employed by a single company.
Digital nomads usually pay tax in their home country – but can choose to pay where they work, and Spain is offering tax breaks. Any nomad who earns less than £527k a year pays 15% tax for the first four years of their stay, instead of the usual 24%. An added bonus for Britons who sign up is that deal permits visa-free travel across the Schengen Area, which consists of 26 EU member states, for as long as their permit is valid.
But my favourite incentive comes from Italy, where the government has announced a £880m investment to transform 2,000 small and abandoned villages for new residents willing to work remotely. It's not necessarily linked to a DNV but reflects one vision of how digital nomads might revive depopulating areas.
Read more about Darren Cronian's remote working experiences
Why go remote?
The main reason for quitting my job in Leeds was to improve my lifestyle and take myself out of my comfort zone. Working remotely abroad has provided me with a much-improved work-life balance for various reasons:
Working with fully-distributed companies with a workforce worldwide is generally more flexible when you work.
Living in a different time zone from your colleagues allows you to take advantage of the time difference.
There's no better education than travelling around the world, experiencing different cultures, meeting new people, and immersing yourself in the local culture and life.
Another part of my reasoning for working remotely while travelling is that I can save much more money for the future.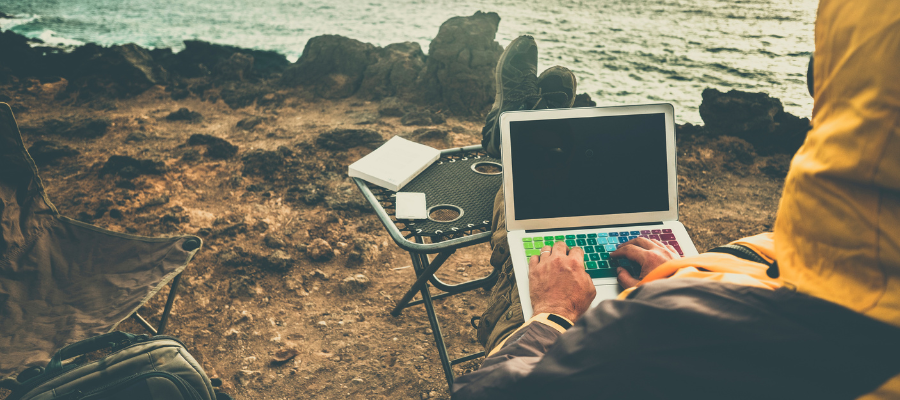 How long are you away?
I am usually away for 12-18 months and return home for one or two months to see family and friends. I spend 30-90 days in one place before moving on. Some people move around much more regularly, dramatically increasing the cost. I choose to be a tax resident in the UK, pay through self-assessment as self-employed.
How many countries?
Since escaping the office, I have worked remotely and lived in 25+ countries, from Finland to Albania, Hungary to Hong Kong, and Japan to New Zealand. My favourite cities are Seoul, Tokyo, Kuala Lumpur, Bangkok, Prague, Malaga, and Sydney.
Changes since you left in 2015 in the ability to work remotely
From a remote work perspective, the result of the pandemic has made landing a job much more challenging. Many people have experienced the benefits of working from home and are loath to go back to the office.
Remote jobs are now seeing hundreds and, for some companies, thousands of applicants. That said, there are certainly more opportunities than four or five years ago.
During the pandemic, I launched the Remote Hive community to help people working from home. This transitioned into a coaching business with 1000+ remote job seekers who have subscribed to get help landing a remote job. From this, a remote work podcast and a YouTube channel share more advice to help people find remote work.
Many companies pay for a laptop since it's vital equipment to do your work. Generally, all you need is a laptop and a decent internet connection depending on the type of work you are doing. My chosen laptop is the MacBook Pro, and while an expensive outlay, it lasts me up to five years before it has to be replaced.
The rest is for your comfort: noise-cancelling headphones for noisy coffee shops or co-working spaces; laptop stand to ensure you are comfortable when working, along with a keyboard and mouse.
For internet backup, I have an unlocked mobile phone, and a MiFi unit where I can insert a sim card for local data should the WiFi go down in my apartment. Having a backup for the internet is essential.
Pitfalls
Financial: bank cards getting lost or stolen, or your bank stopping your card due to abnormal activity. Always travel with two or three debit cards and a credit card. An online account with companies like Wise is another smart move. Backups are important. Not letting your card disappear from your site.
Data protection, security: primarily when you work for a company or freelancer and have confidential data on your laptop. So many WiFi spots, but how do you know they are secure? Use a VPN at all times when you are outside of your secure WiFi connection.
Your laptop is your livelihood. Also, protect your passport and wallet with bank cards as you would your life.
What next?
Late in April I will be launching my Remote Hive marketplace on the website, where digital coaching products will be sold. I'm also transitioning into group coaching because 1:1 coaching takes up a lot of time. The goal is to change that around by end of 2024 and gradually move away from contracting.