The Middle East's relatively young population (38% below 20 years old and 27% millennials) and high Internet penetration (74%) are helping to driving double-digit growth in the region's online travel market, according to a new report by travel industry research leader Phocuswright. While the older generation tends to be driven by comfort and well-established habits, millennials are more adventurous and eager to visit new destinations. And overall, travelers in the region are venturing out more often (though sometimes for shorter trips), with new LCC routes and visa agreements opening up a range of destination options.
New outbound destinations in Central Asia have become popular for quick breaks. For longer hauls, Southeast Asia and the Far East remain top choices, as do the European capitals and Turkey, despite some political turmoil and terror threats. Within the region, Dubai is most in demand, with accommodations and attractions that are well-suited to millennials' short breaks.
Increasing trust in online payments, higher credit card penetration and greater comfort transacting via mobile devices are also fueling online travel bookings. Mobile direct bookings continue to steal online share from the website-direct channel; by 2021, mobile-direct transactions will account for more than one in five online bookings. Meanwhile, the OTA channel is claiming an increasing share of online bookings as well, as global players and smaller regional OTAs leverage localized content and offer flexible options such as payment on arrival.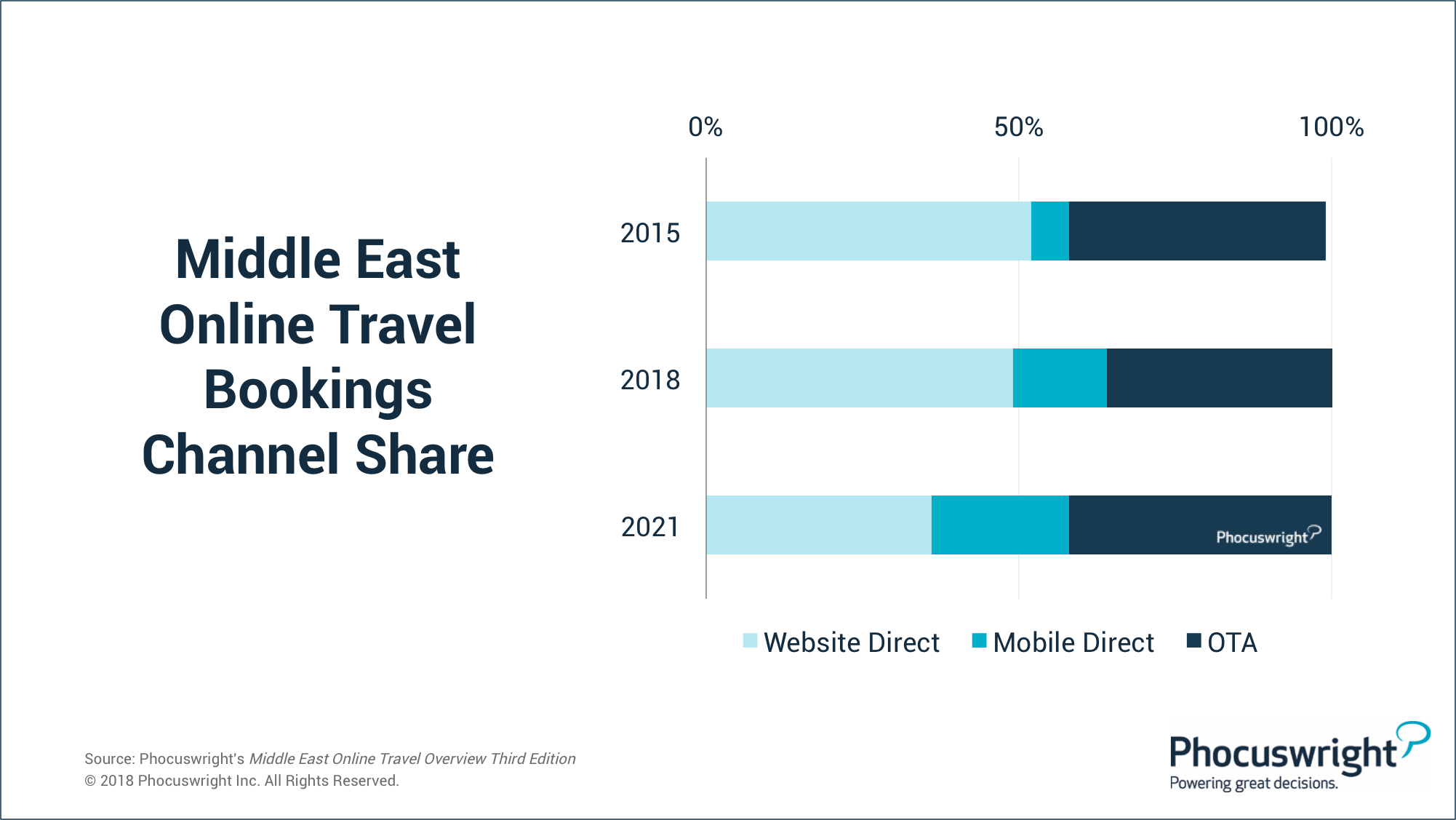 For more on one of the world's fastest-growing online travel markets, check out Phocuswright's Middle East Online Travel Overview Third Edition.
Join Phocuswright's session at ATM on Tuesday, 24 April, 10:30 in the Travel Tech Theatre. Cristina Polo, Phocuswright's Middle East market specialist leads a lively conversation with executives of Ascott International Management, Booking.com and Fursan Travel to explore the burgeoning private accommodations landscape in the Middle East.
Guest Author
Cristina Polo is a French expat who has been living in Dubai for the last 12 years. With over 20 years' experience in the hospitality industry in Europe, Middle East & Africa, she's worked with global and regional multi-brand groups, including Hilton and Carlson Rezidor Hotel Group, in the revenue optimization, distribution, sales, digital marketing and room division areas.
Cristina joined the Insights Middle East team in 2016, a hospitality and service industry focused firm specializing in consumer and business research, marketing, distribution and sales.
She is a steering committee member of the Hospitality Sales & Marketing Association International (HSMAI) Middle East chapter and Market Specialist, Middle East for Phocuswright.