The State of Loyalty in 2017
In 2017, there are expected to be 70 billion digital purchases by consumers online, the majority of which are in retailing followed by other purchases and consumer foodservice with travel trailing.
In 2017, total travel products generated sales of USD2.3 trillion, of which USD935 billion was spent online, and USD280 billion via mobile devices. Mobile travel sales have seen phenomenal growth, growing from a 2% share of total travel sales in 2012 to currently 12%, with mobile projected to take an ever greater share of travel.
The sheer number of unique interactions is only going to grow in size. With the move to mobile, real-time and location-specific customer demands, a more flexible solution will be needed to ensure that loyalty remains relevant in the future. Therefore, having a mobile loyalty programme is going to be increasingly critical for success.
The integration of loyalty with mobile, apps and payments is championed by the likes of Starbucks. Functions such as Apple Wallet (formerly Passbook) and Android Pay help with the management of multiple payment cards and loyalty programmes, again helping to pave the way for a more seamless and integrated loyalty experience.
The Future of Loyalty in the Travel Industry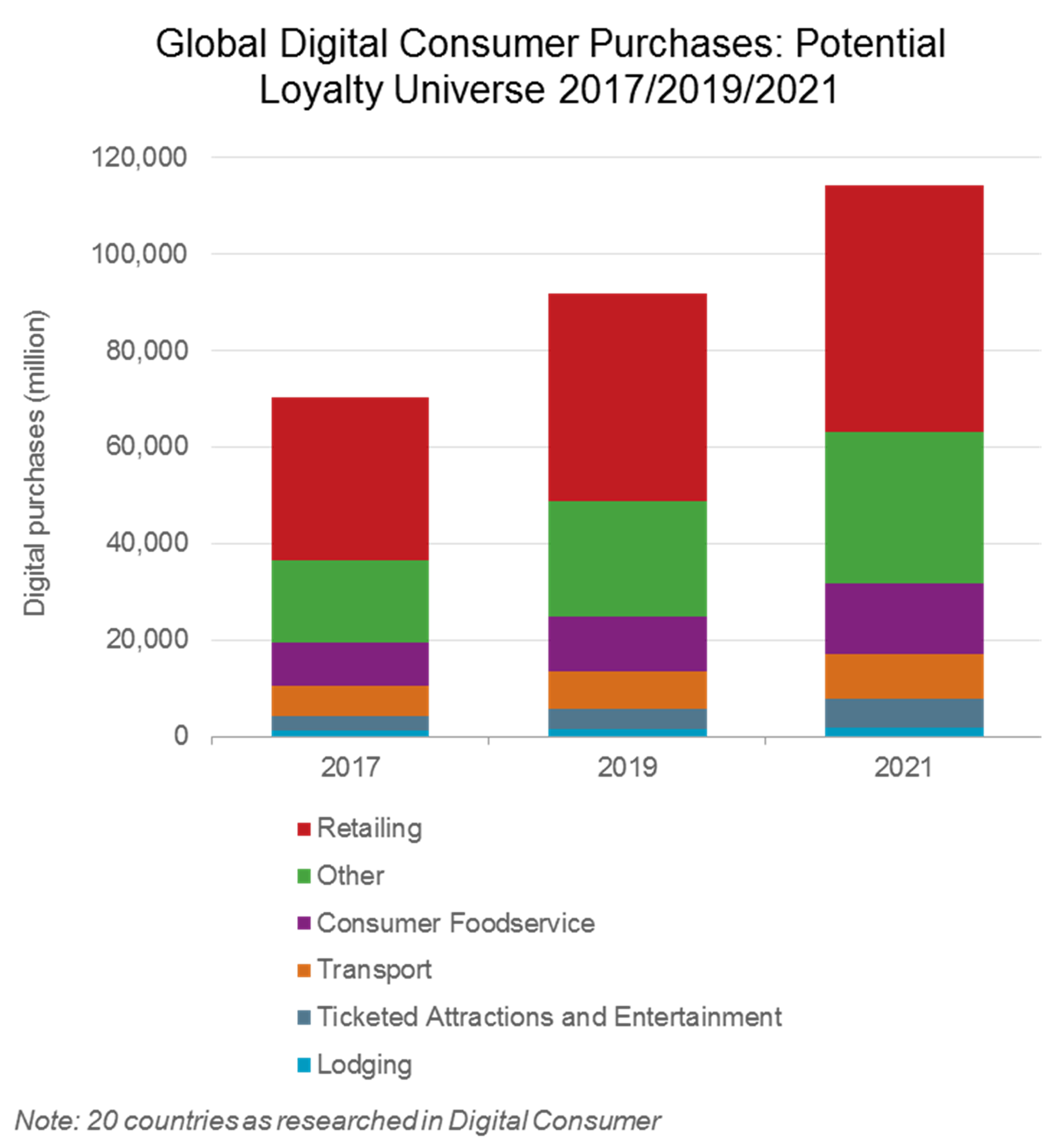 The fourth industrial revolution is upon us, with a new wave of automation driven by artificial intelligence (AI), big data and deep learning. Having loyalty integrated with digital wallets, managed by digital assistants, would be the holy grail for many connected consumers to make their lives much simpler and more manageable, especially where brand apps can be operated from a single platform by voice command.
AI
AI is already making strong inroads into consumers' lives thanks to digital assistants. On average, 66% of survey respondents stated they already had access to a smartphone digital assistant such as Siri on Apple, with a much higher percentage of almost 70% in developed countries, compared with 63% in emerging countries. Additionally, over 49% of consumers in developed markets and 52% in emerging markets stated that they would increase somewhat or considerably their use of virtual assistants in the next 12 months.
Emotional Recognition
Thanks to Apple buying Emotient, emotional recognition software may soon be introduced to the mainstream market. Brands and advertisers will increasingly move towards reading consumers' emotional and physical responses in real time. Understanding consumers' emotional responses to shopping and loyalty experiences, along with the ability to analyse emotional response data, will help fine-tune brand interactions, minimising stress and frustration for consumers when dealing with brands and loyalty programmes, while maximising their engagement.
Fintech
Fintech innovation will shape the future of loyalty in the travel industry. Brands will need to keep one eye on the competition to see who is partnering with whom in the fintech space.
Blockchain technology will be particularly disruptive. The beauty of blockchain is each transaction is unique and because the data are portable, the loyalty process can be made dynamic. Blockchain eliminates the need for a middle man, simplifying the payment process, reducing feed and speeding up transactions. Transferable customer data means that loyalty can evolve to real-time and universal positioning with unlimited participating brands. This will unshackle consumers from being in fixed, static loyalty programmes that are often siloed and ring-fenced through partnerships.
Exciting times lie ahead not just based on new technology and fintech, but also thanks to changing consumer values to receive real-time, personalised offers and engage with brands on their own terms – not the other way around.
Euromonitor International will present the Top 100 City Destinations Ranking Report at WTM London on Tuesday 7th November, WTM Inspire Theatre, 14.55 – 15.45
Pre-register here to receive the Top 100 City Destinations Ranking Report.
To meet Euromonitor team, please visit ME366 stand on the WTM Exhibition floor.