A new report by the Global Wellness Institute sheds light on the spa trends of the future. Charlotte Cullinan asks the experts how these will change the industry
The wellness and spa industry must prepare for a surge in extreme treatments as the sector becomes more data-driven and consumers look to re-wire themselves from within.
These were some of the radical trends forecast in the Wellness 2030 – The New Technologies of Happiness report. Created by the Global Wellness Institute and Swiss think-tank the Gottlieb Duttweiler Institute, the report explains how the wellness industry will develop in the next 12 years…
Smart assistants: The report says: "In the 21st century, inventions will optimise people – from smart assistants and illness prevention to improved human biology and the enhancement of our very beings, which will prolong our lives even further. In the future, smart assistants will decide which relaxation exercises are best for us, as well as which nootropics (cognitive enhancers) should be delivered to help us take the next intellectual challenge in our stride."
Digital doubles: Be prepared for the "digital selfie". Consumers are already creating digital doppelgangers as they search, purchase and socialise online. Next, data on moods, emotions and vital functions will be fed in by apps and wearables, alongside trackers that infiltrate the body, and work on genes, brain cells or stem cells.
The report explains: "This data offers insights into our well-being and is of particular interest to the wellness industry. The more data is collected from various sources, the more precise and multifaceted our digital doubles become. Our behaviour can be analysed and predicted."
Self-healing: One of the next big wellness trends will come from the biohacking subculture. These are scientists, researchers and tech experts experimenting on themselves.
The report explains: "From the perspective of a biohacker, immortality is an engineering problem. Technologies will be used to change the genetic material of organisms and equip them with new characteristics. A new way of thinking is taking hold – a new understanding of do-it-yourself combined with the recognition of how everyone is capable of tapping into and developing their own self-healing powers."
Beyond traditional: The report stresses that it is "of crucial importance" that the industry understands where new players are coming from, identifies the right collaborators, and thinks beyond traditional views of wellness. It adds: "The industry will need the courage to experiment and must also take on the mindset of a hacker."
New entrants: The future is data-driven, and the wellness industry must be prepared for new tech-giant entrants. "Entirely new players will create entirely new wellness categories and offers. Your fiercest competitor will not be the other spa next door."
Perfect match: As companies gather more consumer and behavioural data, expect to see personalised price-setting for treatments, determined by a consumer's lifestyle. "Software will create the 'perfect match' between the consumer and what's on offer. Users will be able to choose from personalised menus, as they do with Netflix."
Blurring the boundaries: The boundaries between wellness and healthcare will become increasingly blurred, which will bring the wellness industry closer to a regulated market.
Futuristic treatments
The study and improvement of the intricate workings inside the body is a major theme for the report. Today, biomarker and genetic analysis is already in use, including at Bodhimaya's retreats and London clinic, where experts produce a comprehensive analysis of guests' biological data through saliva, blood and urine samples.
The company's founder, Cornelius O'Shaughnessy, also runs wellness and spa consultancy Inception Wellness and is a huge advocate for biomarker testing, which he says has received a "fantastic" response from clients. He predicts it will become an essential component of wellness programmes in the future.
For hotels and spas worried about overstepping the line between wellness and medicine by introducing it, he says: "Biodata helps us see beneath the surface, beyond someone's symptoms and what they consciously know about their health. It allows us to listen to the body in a way we haven't been able to previously, and create highly personalised programmes that can have a significant impact on someone's emotional and physical wellbeing."
In the future, O'Shaughnessy expects to see more urban wellness centres integrated with gyms, which will enable customers to receive everything under one roof – from biomarker testing to vitamin infusions, meditation, personalised nutrition and workshops. "These centres will offer a robust mind and body solution that goes right to the line of wellness and medicine and then refer clients to doctors from there."
At BodyHoliday in St Lucia, scientific lab tests and DNA research are on offer alongside its all-inclusive luxury holidays. In 2015 the resort launched its BodyScience clinic, which conducts analysis of guests' biochemistry and physiology through medical and DNA tests. Experts then explain how they can exercise to their full potential, avoid injuries and advise on nutrition plans, aiming for more efficient and improved cellular and metabolic function.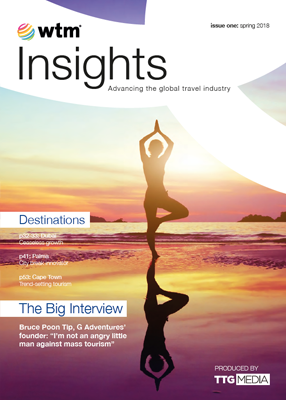 This article is from the latest edition of WTM Insights, the new quarterly magazine on global travel trends, analysis and updates from TTG Media and WTM.
Find out more about WTM Insights.