Wellness and sustainable travel are top of the agenda for Central America tourism boards, writes Katherine Lawrey
Costa Rica is promoting a new tourism strategy for 2018 titled Wellness Pura Vida. The tourism board is working closely with hoteliers and local communities to develop their wellness offering. The strategy supports the adoption of the latest wellness techniques, while ensuring that they have a Costa Rican twist incorporating elements such as sports, organic food and local community outreach – a 360-degree attitude to wellbeing.
As a pioneer in the area of sustainability, Costa Rica will also be promoting eco-friendly wellness tourism that has minimal impact on the environment. Nearly 93% of the country's electricity is produced from renewable sources and 25% of its territory is protected natural land. It has a goal to be the first carbon neutral country in the world by 2021.
Another country with an eye on its environmental responsibilities is Belize. In October, the Belize Tourism Board dedicated a half-day of its annual industry conference to discuss sustainable tourism and why it's crucial to the welfare of the Belizean environment, its tourist attractions and the long-term livelihoods of its residents. Belize is represented in the UK by Brighter Group, which has a responsible tourism division, and partner Trudi Pearce has been providing consultancy advice to the destination on how to reduce plastic waste.
Meanwhile, an exclusive island retreat is set to open in Belize this year that will set new standards for green luxury developments in Central America. The eco-conscious resort is the dream of Oscar-winning actor Leonardo DiCaprio, who originally acquired the land. His company, Restorative Islands, is building a luxury sustainable tourism project on Blackadore Caye, a small island off the north-eastern coast of Belize, not far from the world's second largest barrier reef. Naturally, it will have everything DiCaprio's Hollywood mates could wish for – villas, infinity pools, stunning views and top-quality cuisine. But there's a strong environmental and social cause driving the resort. A restoration plan will set aside at least half the island as a wildlife preserve. Each building will be entirely powered by renewable energy from the sun and free from toxic chemicals. Local organic foods, zero fossil fuel use, 100% solar-powered living and composted waste systems are the hallmarks of this project, which will also establish a research station alongside the health and wellness-focused resort. The island is a 15-minute boat ride from the town of San Pedro or a 45-minute boat ride from the international airport in Belize City.
Other countries in Central America are also looking to entice visitors with their diversified tourism offering. El Salvador has unveiled two new tourism routes, themed on coast and culture.  Los Manantiales starts not far from the capital, San Salvador, and offers visitors an insight into El Salvador's vibrant culture, traditions and history, visiting local textile shops, ancient colonial buildings and cave paintings in the municipalities of Zaragoza, Huizucar, San Jose Villanueva and Nuevo Cuscatlan.
The second route, Cumbres del Mar, hugs the coast of El Salvador taking in some of the most pristine beaches in the country, along with El Malecon del Puerto de La Libertad, a town famed for its rich bounty of seafood.
Elsewhere, Nicaragua has unveiled a 'Religious Tourism' initiative, aimed at raising the profile of almost 170 religious events around the country to international visitors. The Nicaraguan Institute of Tourism (INTUR) plans to work with tour operators to promote packages that feature important religious events. It will also be creating nine tourist circuits that include tours of churches, cathedrals, shrines and venues where traditional religious events take place. The priority target markets are its Central American neighbours and Mexico but it hopes to gain traction internationally.
Nicaragua was one of the UNWTO's fastest-growing tourist destinations in 2017, attracting 1.5 million visitors in 2016, an increase of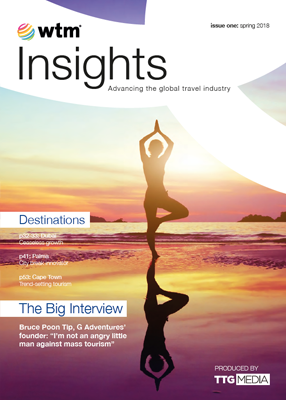 This article is from the latest edition of WTM Insights, the new quarterly magazine on global travel trends, analysis and updates from TTG Media and WTM.