Speakers
Ian Taylor is executive editor of Travel Weekly Group in the UK, reporting online and in print for Travel Weekly and the daily Travel Weekly Business:am. He is responsible for much of Travel Weekly's analysis of the travel and tourism sector and regularly moderates industry events. Ian is a career journalist who has worked in travel for most of the last 17 years.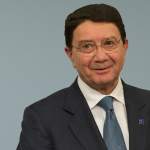 Taleb Rifai was the Secretary-General of the World Tourism Organization heading the (UNWTO) since 2009 for two consecutive terms, ending in January 2018. Mr. Rifai has an extensive background in international and national public service, the private sector and academia.
Before his election as Secretary General of the UNWTO, he was Assistant Director General of the International Labour Organization (ILO), based in Geneva .
Bernie is president of Boeing Middle East, North Africa and Turkey. He is responsible for coordinating all companywide activities in the region and developing and implementing country and regional strategies. Dunn focuses on government affairs, new business and industrial partnership opportunities, corporate citizenship projects, expanding the Boeing presence and strengthening company relationships with customers and other stakeholders. He is based in Dubai in the United Arab Emirates and reports to Michael Arthur, president of Boeing International.
Gerald Lawless, started his career with Forte Hotels which culminated in him setting up and growing Forte's operations in the Middle East. After a 23-year career with Forte Hotels, he joined Jumeirah in 1997 and helped establish it as one of the premier luxury hotel brands in the world. Taking on the challenge of launching Burj Al Arab, the world's most luxurious hotel, after the successful introduction of Jumeirah Beach Hotel to an eager travelling public, Mr. Lawless went on to become President and Group Chief Executive Officer of the Jumeirah Group. At the beginning of February 2016, having served for 18 years at the helm of the Jumeirah Group, Mr. Lawless assumed a new leadership position responsible for tourism and hospitality in Dubai Holding, the Group's parent company. Mr. Lawless is also a Chairman Elect of the WTTC and will assume the role at the Annual General Meeting in Dallas in April 2016.
Haitham Mattar, is the former CEO of the Ras Al Khaimah Tourism Development Authority from 2015 – 2019, where he successfully repositioned Ras Al Khaimah to become one of the fastest growing destinations in the world, exceeding the target of one million visitors in the first three years and winning a number of global travel awards and personal accolades.
Now Sr. Advisor to the Saudi Commission for Tourism & National Heritage, Mattar is contributing to the realization of the National Tourism Stategy, applying his expertise in developing destinations, product and markets.