COVID-19 is a global pandemic, but it is unevenly spread around the world. In some countries the worst has passed for now, in others the situation is worsening. As we shall see, some tourism has returned with ugly consequences. The COVID-19 pandemic is still growing.
While some destinations are opening, others are locking down further. In this edition of RT News, we have the Good, the Bad and the Ugly of COVID-19 and some ideas about recovery and renewal.
How does the travel and tourism sector become more resilient in the face of COVID-19?
YouGov polls have revealed the unwillingness of people to travel abroad and allow foreign tourists in. Another poll found that nearly two-thirds of the British public (64%) would not feel safe travelling by plane currently, up from 40% on 8 June.
Destinations are responding by being a little more selective about whom they seek to attract. We have examples from Kerala, Bordeaux, Colorado and the Isle of Wight.
The impact on tourism in South Africa and The Gambia has been devastating and we have an honest piece from an industry colleague about the impact on his mental health. The Ugly is the return of the party tourists to Magaluf and the negative impacts of over-tourism.
There is now so much news Responsible Tourism News will be published fortnightly on or around the 15th and at the end of each month.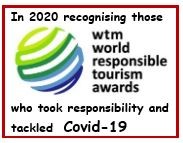 This year's World Responsible Tourism Awards have been adapted to recognise businesses, individuals, destinations and organisations which have taken responsibility to address the challenge of COVID-19. Find out more about the Awards and nominate online by the end of July.
Only those nominated can be recognised by the judges, you can nominate yourself and others, and you can nominate as many as you wish.
You may also be interested in…