The SAF+ Consortium, based in Canada, signed a first sustainable aviation fuel (SAF) offtake agreement with an Canadian airline (Air Transat), an important step in the process towards full-scale production. SAF+ Consortium partners include CCG, Air Transat, Aéroports de Montréal, Parachem, École Polytechnique de Montréal, CIRAIG and Valorisation Carbone Québec Project. This is an important circular economy solution towards zero-emissions aviation.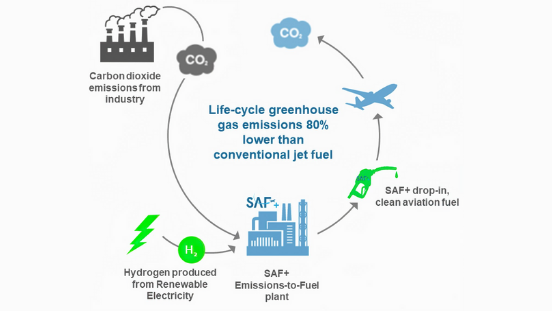 The SAF produced can simply be added to conventional kerosene (drop-in) up to 50%, and there is no need to adapt existing engines or fuel logistics. The lifecycle emissions of the process show at least an 80% reduction in CO2 emissions. SAF+ will, in the near future, use CO2, emitted from existing industrial plants, as the main feedstock. This is an important step towards production of the synthetic fuel with CO2 captured directly from large emitters, which would close the carbon-cycle in a circular economy.
Chris Lyle, of Air Transport Economics, and Paul Peeters, from Breda University of Applied Sciences, interview Jean Paquin, President and CEO, and Alexandru Iordan, Technical Director of SAF+ about their Sustainable Aviation Fuel process and its potential.