Speakers
Simon Ritchie is the editor of F&B trade title Caterer Middle East. A seasoned business and lifestyle journalist, Ritchie has worked across a number of publications and industries both in the UK, his home country, and abroad, before settling into F&B in Dubai.
Samantha Wood, founder of FooDiva.net: Samantha Wood is a British-Greek-Cypriot resident of Dubai and wears a number of hats – a food writer, marketing consultant and event organiser with 25+ years of experience in the United Kingdom and the Middle East. Having left the hospitality PR world, she set up her own business nine years ago – an impartial restaurant review website, FooDiva (www.foodiva.net) that has collected 12 awards. Samantha also organises #ThreeChefsDinner and #DineAroundDubai experiences. She has featured prolifically in local and international media including guest segments on CNN and a regular spot on Dubai Eye radio. She is also the UAE contributor for the global Truth, Love & Clean Cutlery restaurant guide. Samantha is a member of the global Guild of Food Writers, holds a WSET Level 2 wine qualification, and is a speaker and industry awards judge on her favourite subjects – food, restaurants, travel and social media. In light of the COVID-19 crisis, she is running a pro bono social media campaign, #UAERestaurantsUnite, in support of the F&B industry.
Courtney Brandt is an American author living in Dubai, where she has resided for over a decade. When she's not reviewing fine dining venues around the world for her food and hospitality blog, A to Za'atar, she loves traveling to new countries and sabering champagne with kitchen knives. You might have seen her on the television programme World's Most Luxurious Hotels for BBC5 or heard her on Dubai Eye 103.8, where she is an active contributor. In 2019, Ms. Brandt was delighted to move forward with a new endeavor by launching her CSR of One podcast, part of a social initiative that hopes to inspire communities to think beyond their own platforms and share on behalf of others. She has spoken at a number of conferences, including Gulf Host, The Restaurant Show, Caterer Middle East, PechaKucha, Travel Tech Middle East, Middle East Food Forum, and SMS Summit Jordan, and was invited to attend the Google Local Guides Summit in October 2018 and November 2019.
To date, she's been published with Forbes Middle East, Curiosity Magazine, JustLuxe, Elite Daily, MenuPages, Dining and Nightlife Middle East, The Forward Feed, A Luxury Travel Blog, Wine&Style, Matador Network, Travelettes, Citizen Femme, Khaleej Times, Roads & Kingdoms, and Eat This Poem. Courtney has also contributed the foreword for numerous cookbook projects, including A Culinary Mix and Legacy, both projects produced by award-winning WG Magazines.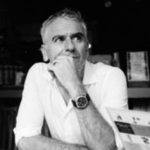 Growing up on a rural farm in Milawa, Victoria, about 3 hours from Melbourne, Cunningham fostered a love of the outdoors and farm-to-table food. He started in his first kitchen at age 14, where he showed the first signs of promise for cooking and an aptitude for the fast-paced atmosphere of restaurants. By age 20, he was already honing his culinary crafts in a myriad of highly awarded restaurants and working under world famous Michelin starred chefs such as Jean Gorges, Nico Ladenis and the best Italian chef in Australia's history, Bill Marchetti.
His international career is a 30-year tale of upmarket city restaurants across London, Sydney and Melbourne, before transferring to leadership hospitality roles in Beijing and Indonesia, like a 5-year appointment as Director of Food & Beverage and Executive Chef with Swire Hotels at EAST Hotel, Beijing. He also spent 2 years as Executive Chef in Capital M restaurant in Beijing while just prior to joining JA Resorts & Hotels, his previous tenure was as Group Director of Food & Beverage with Aryaduta Hotels in Indonesia – ten hotels in which he revolutionized outdated food and beverage operations and developed trendy new dining concepts.
Appointed as Vice President of Restaurants & Bars of JA Resorts & Hotels in 2018, Cunningham currently oversees 40+ restaurants and bars across the United Arab Emirates and Indian Ocean. Passionate about environmentalism, sustainability and approachable dining, Cunningham's' fundamental belief is that the Food & Beverage outlets of any hotel are what provide its character and energy, and in fact define the personality of the hotel if they are attractive and exciting to the local community.
In 2019, JA Resorts & Hotels announced the expansion of the restaurants and bars portfolio from 34 outlets to 41, adding 7 new restaurants and bars by the end of 2020. Cunningham leads a team of almost 900 associates across Dubai, Seychelles and the Maldives. He is spearheading collaborations with 4 internationally acclaimed chefs, who between them have earned and maintained 6 Michelin stars – TV personality and filmmaker Chef Vikas Khanna, Master of Modern Middle Eastern Cuisine Chef Greg Malouf, China's most renowned Chef Da Dong and Mathieu Palombino, founder of world-famous pizzeria, Motorino.
The 7 new openings, additional renovations and recruitment of new R&B team members are all scheduled for completion by 2020. JA Resorts & Hotels are confident that under Cunningham's leadership these new concepts will elevate the brand positioning and help the homegrown hospitality company gain recognition as a true player in the competitive Dubai R&B scene,
When he finds a moment away from the demands of his F&B portfolio, Cunningham spends his free time running, practicing yoga, trying new restaurants and spending time with his 2 children, Taj and Sachi.