R U OK?
How about last Thursday, 10 September? Were you OK then? Because last week I read on Twitter that Thursday 10th September was R U OK? Day in Australia.
R U OK? Really? Now?
It's hard enough as an awkward Brit deciding whether to write 'Hi' or 'Dear', or to sign off 'Kind Regards', 'Best Wishes' or 'Cheers'. Right now I struggle every time I start an email. What is the correct way to ask how someone is doing in the current moment?
Last week was especially difficult. Not because it was R U OK week. And not even because thanks to quarantines and six person rules and all else that's on the horizon for the industry I love, it sunk in that I probably won't see my family until next spring at the earliest.
Last week was hard, because that was the week my Twitter feed went red.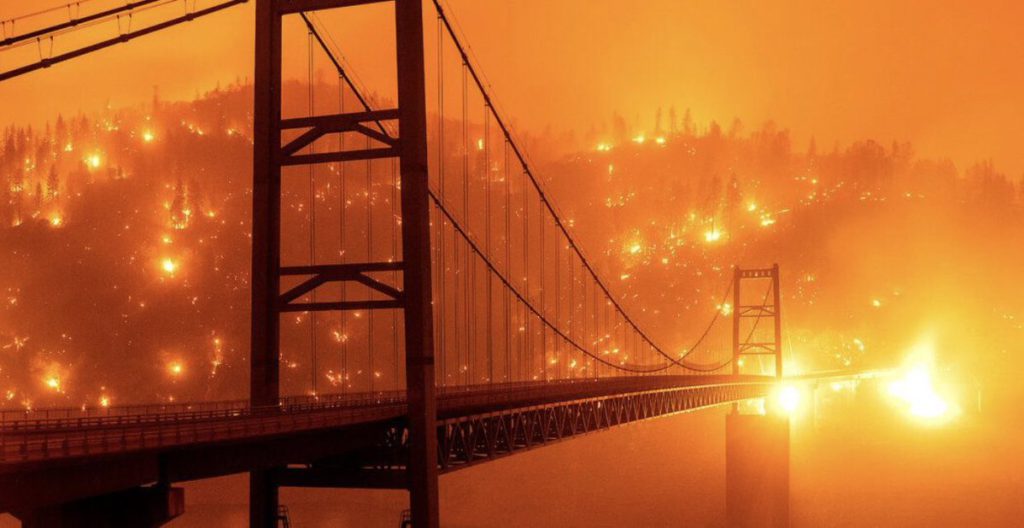 Last week I learned that 2020 is the second hottest year on record, after 2016. (For the record, that makes it the second hottest year in the last 100,000 years)
I also read the latest from the US National Weather Service Climate Prediction Centre…
2020 will probably be one of the five coldest years between now and 2050.
I discovered that airlines used 50 million litres of alternative jet fuel in 2019…
…yet according to the International Council on Clean Transportation, that figure means they achieved less than one quarter of one percent of IATA's 2020 goal.
Meanwhile, the UK Climate Assembly published its recommendations on the path to net zero. The assembly was made up of 'ordinary people' – a broad and representative sample of members of the public, including some who said they knew very little about climate change and others who declared themselves climate sceptics.
The assembly has spent the last few months discussing how the UK Government should cut emissions to net zero by 2050, and for those of us working in tourism their recommendations on aviation are clear. Summarised by the Aviation Environment Foundation as: "the cost of flying will need to increase, at least for those racking up the most air miles annually, and that the industry should pay the costs of removing (not offsetting) the carbon it generates."
Last week was a busy week for reports… A new paper was published by economist Jason Hickel in The Lancet Planetary Health, which quantified national responsibility for climate breakdown. The paper's hard to challenge premise is that the atmosphere is a commons, and therefore we all have equal rights to it, so long as we stay within the safe planetary boundary of 350ppm. (Note, we are at 411.16ppm today. We exceeded 350ppm in 1990).
The paper found that the US is responsible for 40% of the excess global CO2 emissions, and the EU (inc the UK) is responsible for 29%. In total, the Global North is responsible for 92% of excess CO2 emissions.
By contrast, most countries in the Global South – including India, Indonesia, Nigeria and China – remain within their 'fair share' of the atmospheric commons. In total, the Global South – that is every country on the continents of Africa, Latin America and Asia – have contributed just 8% of global excess emissions.
Yet, according to the Climate Vulnerability Monitor, these same countries suffer more than 90% of the costs of climate breakdown, and 98% of the deaths associated with climate breakdown.
Another new report last week, this one for Institute for Economics and Peace, found that the climate crisis could displace 1.2bn people by 2050. And yet another, the WWF Living Planet Report 2020, revealed that we have wiped out 68% of the world's wildlife in the last forty years.
I wasn't the only person to find last week hard. Sarah Kaplan, Climate Reporter for the Washington Post, wrote: "Looking at the burning West, the broiling Atlantic, the melting Arctic, I wonder: Will we look back 30 years from now and think, 'Wow, things got pretty bad there'? Or will all this seem mild compared to the disasters unmitigated climate change will bring?"
As Kaplan continues: "It *will* get worse if laws and business practices and behaviours don't change. Every day that humanity emits more, rather than less, we are committing ourselves to a future even more horrific than what we're experiencing now."
Of all I read on Twitter last week, however, these next two tweets are the ones that have stuck with me most…
One comes from "veteran climate futurist", Alex Steffen (41.4k followers). "One of our biggest assumptions is that the climate emergency is an issue." writes Steffen. "It's not, it's an era."
The other is from Bella Lack (146.7k followers), who is the 17yr old co-founder of Reserva, working to create the world's first entirely youth funded nature reserve.
"The fire isn't THE crisis, the extinction isn't THE crisis. It is us," says Lack. "We're not 'fighting' climate change or 'fighting' extinction. We're struggling against abuse of power, overconsumption, unsustainable agriculture, unsustainable methods of production, corrupt governments…"
So what do we do?
Bella Lack also posted another tweet last week, and this has to be where we find our ability to answer 'I'm OK.'
"Today is a liminal time between the past (when we should have taken action) & the future, which will either be a habitable world where we are consciously making an effort to live with less of an impact, or increasing fatalities, and much more destruction and loss."
None of us want this right now. We're scared. Hurting. Losing (or lost) our jobs. Watching our industry unravel.
But if we want to be OK, we have to deal with the real crisis.
You may also be interested in…