Speakers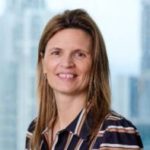 Chiara has been working in the travel and payments industry for the past 20 years and is currently the Vice President Market Development Travel, within the Enterprise Partnerships team at Mastercard, focusing on Travel B2B propositions and industry strategy.
She previously worked as the Head of Commercial in the Amadeus Payments Unit, ensuring B2B payment solutions and merchant acceptance commercialization in the travel industry and prior, also in Amadeus, she headed the Payment Business Development Area and Partnerships Team.
Prior to joining Amadeus in 2012, Chiara has worked in leading Financial Institutions mainly focusing on commercial card processing and acquiring.
Chiara is also an ambassador in Spain for the European Women Payments Network, a not-for-profit organization whose goal is to promote gender parity in the payment industry.
Lee has been reporting on the travel industry for the last 14 years, most recently as editor of Travolution, the technology and digital travel publication brand and sister title to the UK's leading trade magazine Travel Weekly. A former local newspaper journalist, Lee has covered various travel sectors including cruise, travel agents and tour operators and now regularly moderates both Travolution and partner events and conferences.