The all-new WTM Awards, organised by WTM London – the leading global event for the travel industry, is set to make its debut on the evening of Tuesday 6 November 2018 at London's Tobacco Dock, celebrating overall excellence in the global travel & tourism industry.
The first of its kind, the WTM Awards will recognise the successes of national, regional and city tourist boards as well as outstanding private sector companies and individuals.
At the glitzy evening event, after a day at WTM London, delegates will have the chance to network, dine and recognise the best destinations, private sector companies and individuals that the global travel and tourism industry has to offer.
Categories will include Best National Tourism Board Campaign, Most innovative use of technology within a destination, Best agency for tourism marketing, Best Regional or City Campaign, Best Digital Strategy in Tourism, Best Digital Influencer in the industry and Best PR campaign.
Along with sector led awards, which reflect the WTM London official events programme, including Best Destination for Wellness, Best Destination for Responsible Tourism, Best Destination for Adventure Tourism, Best Destination for Food Tourism and Best Destination for LGBT Tourism.
A final award for outstanding contribution to the Industry, nominated for by WTM London Media Partners will be the ultimate finale to these show-stopping awards.
Organised by WTM London, with the participation of the World Tourism Organization (UNWTO), along with an independent panel of expert judges, the 13 awards showcase the best in class of the global travel and tourism industry, in front of an audience of 500+ senior industry professionals
A carefully selected independent panel of judges will make the awards a reality. Every judge will be a prominent member of the travel community, with the right experience and know- how to select the very first WTM Award winners.
WTM Portfolio Conference and Seminar Manager and co-founder of the WTM Awards, Charlotte Alderslade, said: "We are delighted to announce the launch of these brand-new and unique awards for the global travel and tourism industry. The WTM Awards are the only opportunity to celebrate and reward those destinations and private sector companies that go above and beyond with their global campaigns and strategies and see outstanding results, which deserve to be recognised.
WTM Portfolio Press and PR Manager and WTM Awards co-founder, Paul Nelson, added: "WTM London is the perfect backdrop for the WTM Awards as there are more than 51,000 senior travel and tourism industry professionals from 182 countries are in London to conduct around £3 billion in business deals.
"The WTM Awards provide the travel industry the perfect opportunity to get together and celebrate excellence in the industry on the back of securing those all-important business deals which could form the backbone of future winners at the WTM Awards."
The Awards will be held in the heart of London's thriving enterprise zone, at Tobacco Dock, just a few stops on the Dockland Light Railway from WTM London's ExCeL venue or a short taxi ride away.
The famous London landmark soaked in history is a grade 1 listed warehouse built in 1811 serving primarily as a store for imported tobacco.  It now offers stunning timber beams and beautiful architecture, making it the perfect event space for this cool, stylish and glamourous awards ceremony.
For further information related to nominating, attending, sponsorship or judging for the WTM Awards please visit http://awards.wtm.com.
Check out Charlotte Alderslade, WTM Portfolio Conference and Seminar Manager and Paul Nelson, WTM Portfolio Press and PR Manager's interview during WTM London on the WTM Interview Wall in the WTM London International Media Centre – ME580.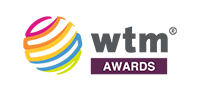 -ends-
About World Travel Market
World Travel Market (WTM) portfolio comprises of five leading B2B events across four continents generating more than $7bn of industry deals. The five events are;
WTM London, the leading global event for the travel industry, is the must-attend three-day exhibition for the worldwide travel and tourism industry. Around 51,500 senior travel industry professionals, government ministers and international media embark on ExCeL – London every November generating around £2.8 billion of travel industry contracts. http://london.wtm.com/. Next event: 6-8 Nov 2017 – London.
International Golf Travel Market (IGTM) now in its 20th edition, is the meeting place for the global B2B golf travel community. More than 600 golf tourism suppliers join 350 pre-qualified buyers and 100 international press for four days of unmissable pre-scheduled appointments, exclusive networking opportunities and invaluable industry and trend updates. Taking place in a different destination every year, IGTM brings together 1,400 golf tourism professionals from over 65 countries. http://igtm.wtm.com/. Next event: 11-14 Dec 2017 – Cannes.
World Travel Market Latin America now in its fifth edition attracts about 9,000 unique senior executives. The event generates US$ 370 million of new business. Taking place in Sao Paulo Brazil, this show attracts a global audience to meet and shape the direction of the travel industry. More than 7,000 unique visitors attend the event to network, negotiate and discover the latest industry news. http://latinamerica.wtm.com/. Next event: 3-5 April 2018 – Sao Paulo.
World Travel Market Africa launched in 2014 in Cape Town, South Africa. Nearly 5,000 travel industry professionals attend Africa's leading inbound and outbound travel and tourism market. WTM Africa delivers a proven mix of hosted buyers, media, pre-scheduled appointments, on-site networking, evening functions and invited travel trade visitors. http://africa.wtm.com/. Next event: 18-20 April 2018 – Cape Town.
About Arabian Travel Market (ATM) is the leading, international travel and tourism event in the Middle East for inbound and outbound tourism professionals. ATM 2017 attracted almost 40,000 industry professionals, agreeing deals worth US$2.5bn over the four days. The 24th edition of ATM showcased over 2,500 exhibiting companies across 12 halls at Dubai World Trade Centre, making it the largest ATM in its 24-year history.  www.arabiantravelmarketwtm.com Next event 22-25 April 2018 – Dubai.
About Reed Exhibitions
Reed Exhibitions is the world's leading events business, enhancing the power of face to face through data and digital tools at over 500 events a year, in more than 30 countries, attracting more than 7m participants.
About Reed Travel Exhibitions
Reed Travel Exhibitions is the world's leading travel and tourism event's organiser with a growing portfolio of more than 22 international travel and tourism trade events in Europe, the Americas, Asia, the Middle East and Africa. Our events are market leaders in their sectors, whether it is global and regional leisure travel trade events, or specialist events for meetings, incentives, conference, events (MICE) industry, business travel, luxury travel, travel technology as well as golf, spa and ski travel. We have over 35 years' experience in organising world-leading travel exhibitions.
More information, please contact:
Paul Nelson – WTM Portfolio PR Manager
E.: paul.nelson@reedexpo.co.uk
T: +44 (0)20 8910 7032/ M: +44 (0)79 1955 5510
Natalia Hartmann – WTM Portfolio PR Executive
E.: natalia.hartmann@reedexpo.co.uk
T: +44 (0)20 8439 5535/ M: +44 (0)74 0336 7331