Sales manager for sponsorship and digital across all of WTM's events
I've worked at Reed Exhibitions for three years. It's a brilliant job, working with people from all over the world, learning about different cultures and how destinations promote themselves.
Monday
This week I'm in Dubai to meet with our emirati clients ahead of Arabian Travel Market. The emirates are quite close together so it's easy to drive between them all. I start with a meeting in Ras Al Khaimah, have lunch in Ajman and end the day with a meeting in Dubai. There's a big difference between the lesser-known emirates and the more glitzy, metropolitan Dubai and Abu Dhabi. Ajman, Sharjah and Ras Al Khaimah feel more authentically Arabic. I have dinner with my three colleagues who are based in Dubai. We eat at Shades poolside restaurant at Address Dubai Marina.
Tuesday
I head over to Yas Island, Abu Dhabi, to meet with the tourist board and Etihad. A new Warner Bros World theme park is about to open on Yas Island, which they are keen to promote at our events. We discuss the different outside and inside on-site branding options and the digital packages we can offer. Back in Dubai I catch the Burj Khalifa light show after dark. It breaks the Guinness World Record for the largest laser light and sound show on a single building.
Wednesday
One of tourism's fastest-growing sectors is on the agenda when I meet with AccorHotels to talk about how they can make use of the Wellness & Spa lounge at Arabian Travel Market. We want to make these lounges as interactive as possible – we've been chatting with clients about setting up mindfulness and yoga sessions at WTM London. I also meet with the Korea Tourism Organisation, which has an office in Dubai, before catching the flight home overnight. Luckily, I'm a good sleeper on planes, provided I have a window seat and a couple of glasses of red!
Thursday
We usually work from home the day after a red-eye. I check in with our venues to update them on what we have sold and book in branding opportunities. They then take over to finalise artwork with the client. I also get an update from the team on the latest exhibitor bookings. It's important to understand our clients' objectives and who they want to meet with, so that we can provide bespoke solutions in line with our networking opportunities.
Friday
My day starts with a meeting at A&E Networks, home to the History Channel, in its modern office space in Hammersmith. We're discussing how they can continue to use WTM London as a platform to network with leaders of tourist boards. In particular, we discuss the prospect of A&E Networks sponsoring the new International Travel
& Tourism Awards hosted by WTM London on November 6 this year. My afternoon meeting is afloat – on the Silver Sturgeon on the Thames. The aim is to discuss partnership opportunities with Woods' Silver Fleet – many of our clients transport visitors to WTM on the company's boats. Finally, my week ends back at our Richmond HQ with a team meeting to discuss trends, sales and organisation of the shows. There are lots of us so it's rare we get every single member of the team there, but it's good to catch up after a busy week.
Biography
Studied: Marketing in Australia
Worked: I come from a background of working as a corporate account manager in Telecommunications
Lives: In Clapham, south-west London, with my lovely wife
Likes: Travelling – my favourite destination is Italy
Most looking forward to this year: Our two new launches, Travel Forward and the International Travel & Tourism Awards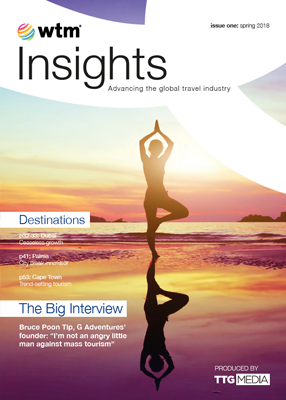 This article is from the latest edition of WTM Insights, the new quarterly magazine on global travel trends, analysis and updates from TTG Media and WTM.
Find out more about WTM Insights.