This is a sponsored guest post from Visit Gibraltar
Visit Gibraltar and discover there is more to experience and unravel than you could ever have imagined.
You'll find the British Overseas Territory of Gibraltar in the western Mediterranean at the point that Europe looks across to Africa. When you Visit Gibraltar you will immediately be drawn to the imposing limestone rock, which dominates the skyline standing 1,398ft tall.
An immediate talking point is the runway, constructed during WWII on what used to be Gibraltar's own racetrack. As it crosses the main road into town, visitors remain incredulous as traffic and passengers are halted to allow aircraft to take off and land. A new underground tunnel is being constructed, which will change this novel arrival.
Gibraltar's compact size, just 6.8 square kilometres, means many attractions are navigable on foot and the transfer time from Gibraltar International Airport to your hotel is swift, no more than 15 minutes.
Gibraltar was recently granted UNESCO World Heritage status for its Gorham's Cave Complex, which is now recognised as the last known home of Neanderthals. This is an integral part of Gibraltar's historical legacy and there is a viewing platform above the World Heritage Site that provides the perfect vantage point from which to view the Neanderthal Caves. This facility provides spectacular views and interpretation of the site without risk of causing damage to the fragile archaeology.
The best way to familiarise yourself with Gibraltar's diverse heritage and to experience its natural beauty, is to walk its beautiful city and surroundings and the impressive Gibraltar Nature Reserve, Upper Rock. Alternatively, take a tour by road or ride on the Cable Car from Grand Parade.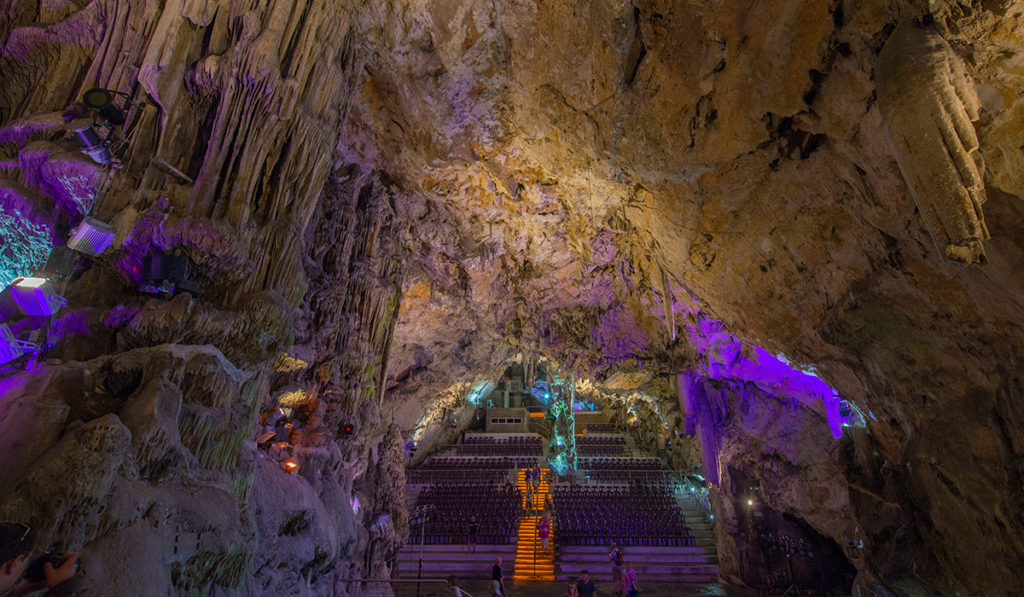 A basic Rock Tour lasts around an hour and a half and captures thousands of years of the Rock's evolution including St Michael's Cave with its stunning stalagmites and stalactites. On the tour you will also meet the famous Barbary Macaques, Europe's last free roaming monkeys.
You will often hear Gibraltar characterised by the macaques who became a symbol of Gibraltar's Britishness during the Second World War and whose numbers were increased on the command of Winston Churchill. Booked separately is Monkey Talk, a tour hosted by a primatologist who demonstrates how to safely interact with the macaques. Scheduled at the end of the day as the monkeys prepare for the evening you could also be witness to the most beautiful sunsets in Europe.
A bird watchers' paradise, the Gibraltar Nature Reserve, Upper Rock is a popular spot to capture spectacular sightings of birds during migration.
The Great Siege Tunnels form part of the honeycombed inside of the limestone Rock and were fundamental in the defence of Gibraltar during the late 1700's and 1800's. The tunnels are a living record of the defence of Gibraltar during the Great Siege of 1789, when the forerunners to the Royal Engineers blasted out tunnel systems to position guns to fight off the enemy. The tunnel system was further developed during WWII. Today, visitors can see where service personnel assembled Spitfire planes from inside the Rock, ready to assist the war effort.
Gibraltar's Moorish Castle was reconstructed in 1333; a medieval fortification with the dominant features being the Tower of Homage and the Gate House, which remain today. It was once Gibraltar's only prison but today it is a popular attraction strategically positioned in the Rock's face.
Continuing your exploration along the Gibraltar Nature Reserve, Upper Rock and with appeal to Instagrammers, you will find Windsor Bridge, Gibraltar's first suspension bridge, which forms part of the Thrill Seekers' Trail. At 71 metres long, it is constructed over a 50- metre gorge. At the top of the trail is Skywalk. Standing 340 metres above sea level, Skywalk is located higher than the tallest point of London's Shard and offers 360-degree views spanning three countries and two continents.
Gibraltar's historic town centre is largely protected by the Gibraltar Heritage Trust and part of a continual restoration programme. Its original city walls and fortifications date back to the 1700s including Casemates Gates, Charles V Wall and King's Bastion.
Join a walking tour in the town area to introduce you to some of Gibraltar's unique architecture reflecting its blend of Genoese, Portuguese, Spanish, Moorish and British Regency style buildings.
The Catholic Cathedral of St. Mary the Crowned in the centre of Main Street and part of the walking tour, was built on the original site of the chief mosque but was demolished during the Great Siege. It was later rebuilt as a Cathedral. Some of the early structures can still be seen.
Gibraltar's National Museum is not only situated on the original site of a Moorish bath-house, but is now the main interpretation centre for Gibraltar's Neanderthal past. It can be found a short walk from Main Street.
Main Street is recognised today as Gibraltar's main commercial and shopping district. After a morning of skirting around the city's intricate lanes and streets you may now be tempted to stop and look at some of the bargains to be had. Gibraltar is a VAT free destination and so offers exceptionally good value shopping. Popular purchases include cosmetics, perfumery, tobacco, spirits, electronics and jewellery.
Casemates Square, at the end of Main Street was once the centre of public executions. Today it is filled with numerous lively bars and cafes. There is a wide selection of places to eat to suit all.
Art lovers will relish and be fascinated by the works exhibited at Gibraltar's three major art galleries. Gibraltar Exhibitions of Modern Art Gallery, The Mario Finlayson National Art Gallery, established in 2015 and Gustavo Bacarisas Gallery, all showcasing local and international works.
Behind Main Street lies Irish Town. This sub-district was named over two hundred years ago when Gibraltar was split into differing quarters. Here you will find restaurants, historic coffee houses and bars.
Heading out of town and looking for a relaxing stroll, head to the Alameda Gardens, Gibraltar's own botanical gardens opened in 1816 and linked to the Royal Botanical Gardens at Kew. Spectacular examples of rare flora, fauna and other succulents enjoy a calming six hectares of serenity that also includes an open-air theatre. The gardens are also home to the Gibraltar Animal Wildlife Conservation Park. The park works with other animal parks with endangered animal programmes, some animals confiscated from ships, illegally trafficked animals and unwanted pets. Animals at the park include cotton-top tamarins, ring-tailed lemurs, Asian short-clawed otters and many others.
Outside the town centre you will find Gibraltar's stylish marinas, Queensway Quay and Ocean Village. Enjoy a meal overlooking the many luxury apartments and large yachts that are moored there. Or visit one of the two casinos located here, should you fancy a flutter at the tables. Buzzing with bars and restaurants, visitors can also go out into the Bay on dolphin watching boats to witness pods of dolphin at play.
Try your hand at diving or sailing. Alternatively, rent an e-bike and enjoy the many vistas away from the town centre.
King's Bastion, a former military Bastion, has been redeveloped as a family environment complex offering food and fun activities for all ages, including a multiplex cinema and bowling.
Over on the east side of Gibraltar is Catalan Bay, evolved from a Genoese fishing village whose original inhabitants famously had red hair. Dine on the seafront at a local unassuming fish restaurant and enjoy a vibrant atmosphere in this historic community.
A short distance away is Sandy Bay, where you'll find a bijou beach of golden sand shipped in from the Sahara. Sandy Bay is little known by visitors but is the perfect spot for an early morning stroll on the shore of the Mediterranean. Indulge in an exciting stand up paddle board lesson with the majestic Rock as a backdrop.
Over at Europa Point, stand at one of the southmost points of Europe and take in breath taking views across the Strait to North Africa.
A total visual indulgence, Gibraltar's pot of historic cultures equals a feast of cuisines and cooking styles. Local food is the result of culinary influences including British, Maltese, Genoese, Portuguese, Andalucian, Moorish, Jewish and Hindu cooking styles. Once a year you can sample an extravaganza of food styles at Calentita, a night of cooking that will satisfy even the most discerning food critic.
When you Visit Gibraltar you'll be counting the days until you can return, so we hope you come back and visit us again soon.