Travel and tourism have transformed beyond recognition since Coronavirus (COVID-19), going from a juggernaut of constant growth to a shadow of their former selves. The existential crisis is taking its toll not just on destinations and communities, but also on travel companies, with an increased uptick in bankruptcies. A wave of mergers and acquisitions is expected, as weaker companies are swallowed up by cash rich brands, supply recalibrates and companies aim to optimise asset utilisation.
According to Euromonitor International's latest research, we predict an unprecedented decline of 50.3% for world arrivals from 1.5 billion trips in 2019 to 731 million in 2020, with recovery to pre-crisis levels within three years. Inbound receipts face a similar sharp drop to USD882 million from USD1,774 billion over 2019 – 2020.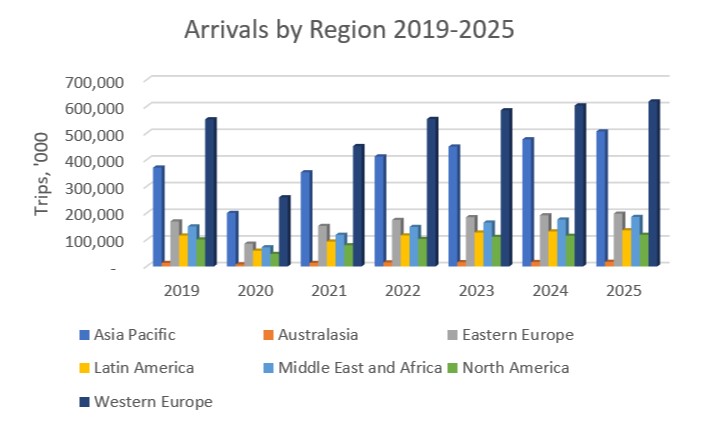 Source: Euromonitor International – Travel Forecast Model
With global tourism dropping off a cliff in Spring 2020, the knock-on effect on travel products and services is tangible. With negative media headlines and no sail orders, the worst performance is expected for cruise, forecast to drop by -58% globally in 2020. Airlines have also borne the brunt of travel bans and restrictions, with global sales forecast to decline by 46.9% in 2020.
Although there is no official playbook, tourism boards are turning to their domestic markets to help kickstart economic recovery. With 76% of consumers expected to holiday closer to home in the short to mid term, global domestic tourism is forecast to a marginally less severe decline of -33.0% in 2020, from 12.9 billion trips taken in 2019 to 8.6 billion in 2020.
Nature-based options that offer greater levels of freedom and value for money are expected to fare better, with campsites predicted to fall by -32.7% compared to hotels at -44.1% in 2020, whilst national parks are expected to see a relatively smaller drop of a quarter of sales by -25.7%. Whilst traditional package holidays are expected to see a sharp drop of -46.6%, followed by CAGR of 14.2% over 2020-2025
Key online categories like OTAs, low cost carriers and short term rentals are expected to perform better than more traditional business models over 2020-2025, with strong growth shown by online travel sales overall at 15.7% CAGR, whilst mobile travel sales are expected to grow the fastest, experiencing 19.9% CAGR, generating substantial incremental sales of USD433 billion.
Embracing digital transformation seems to be the way forward for travel companies, with 87.8% enjoying more online sales in the past month than the previous month last year, according to Euromonitor International's Voice of Industry Survey.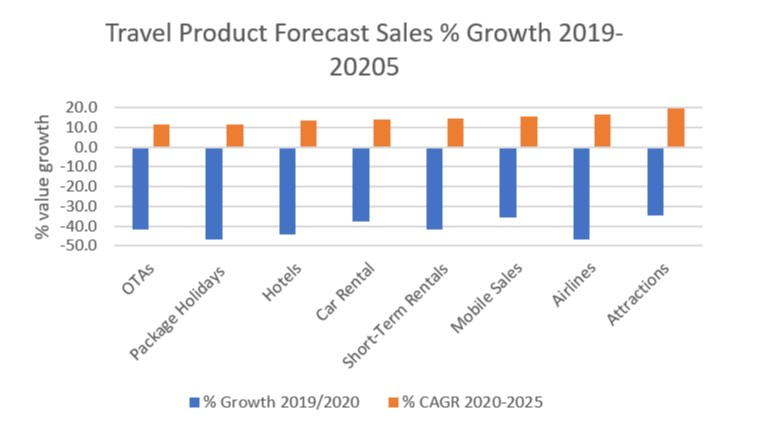 Source: Euromonitor International
The travel industry is broken with COVID-19 shining a light on the fragile cracks in the system, with 80% of companies surveyed witnessing a drop in bookings between 60% to 100%. However, this disruption has given businesses in the travel supply chain the opportunity to rethink strategies, partnerships and business models. Many voices are calling for a radical pivot to a sustainable and purpose-driven model, where people and planet are balanced with profit for fair and decent work for local communities.
Register to watch Travel and Tourism: Embracing Transformation to Move Beyond Coronavirus on 13th August, 2pm BST, where Caroline Bremner, Head of Travel Research at Euromonitor will discuss change in consumer attitudes and behaviour, industry innovations and how to put the best foot forward on the road to a long recovery.
You may also be interested in…