A full-fledged, Mediterranean style travel experience. Year after year, millions of tourists flock to Puglia for an all-season, unique and well treasured journey.
Nature, culture, art, food & wine, and sports are Puglia's much appreciated tourism products. Nowadays, Puglia is on the cusp of a fast paced positive trend: being one of Italy's top destinations and increasingly gaining international prominence, its promotional policy is paying spectacular dividends as millions of tourists from all over the world desire to explore its less travelled routes for an authentic experience.
Puglia strives for environmentally sustainable tourism and high quality territorial offers. The Apulian inner soul is centred on its diversity, its soothing horizons, the splendid countryside and millennial olive groves, its crystal clear seas, the countless religious rites and festivals, its music and culture.
In Puglia, tourism is strictly bonded with cultural heritage. There are several ways to discover this unique land: exploring uncharted food & wine trails and savouring typical Apulian cuisine; setting off on historical and cultural itineraries; discovering small towns and secluded villages, hiding stately historical buildings and sporting a variety of architectural styles: from Romanesque to Renaissance and Baroque, where majestic palazzi are turned into museums, libraries, galleries and art venues.
Among Puglia's treasures: the Trulli conical houses in Alberobello, a UNESCO World Heritage Site together with Castel del Monte, the Monte Sant'Angelo Sanctuary and the Gargano National Park beech woods; the historical masserie, the underground olive oil mills, the prehistoric ravines, sinkholes and rifts dotting the surface of this heavily karstic territory, yielding kilometre-long caves and grottos, narrating the human adventure from the Stone Age to modern times.
Harbours and marinas mark the 800 km Apulian coastline. This is a well known region for its sunlight and gentle winds, with unique chances to discover its blue waters and enchanting underwater scenarios. A journey through Italy's heel is an occasion to immerse into nature across trekking trails, horse riding and bike routes along the coasts. The Gargano and Alta Murgia National Parks, the Tremiti Islands and Torre Guaceto marine reserves make for Puglia's vast and diverse natural territory.
The worldwide penchant for "authentic" holidays finds its preferred response in the Apulian tourism offer. Across the current international scenario, Puglia stands out as a much preferred destination, offering emotional travel experiences. Increased international tourism and a tourism season that spans across the entire year, benefit from Puglia's extraordinary quality of life and year-round mild climate, visiting ancient villages, savouring their exquisite cuisine based on seasonal local produce.
The Puglia lifestyle is an authentic dimension, off the beaten tracks of mass tourism. Apulian seas, thanks to the region's warm and dry weather, make for an all-season discovery, be it in traditional beach facilities or from atop a historic "trabucco", the old fishing machines located in Gargano. Adventurous voyagers can trek across Puglia's hinterland villages, natural parks and archaeological sites, sojourning in majestic masserie and living a unique, zero-mile food & wine experience.
Find out more about Puglia on www.weareinpuglia.it or join our Facebook fan page.
Guest Author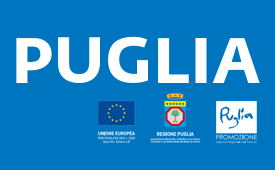 Puglia, the heel of Italy's boot, sits between two seas: the Adriatic to the East and the Ionian to the south. This strategic position, combined with more than 800 kilometers of beautiful coast-line, has shaped the region's history and development. Puglia is known as the natural Italian gate to the East of the Mediterranean area.
Puglia will be exhibiting at this year's WTM London, find them at stand EU1870