In March GamesCom, the world's largest event for computer and video games, announced that its 2021 event would be hybrid. Normally, almost 400,000 gamers, developers and tech companies descend on Koelnmesse in Cologne for the event.    
Felix Falk, the event's co-organiser, said: "We will be placing a focus on the super fans and the on-site testing of the latest games this year. At the same time, GamesCom 2021 will once again reach millions of people worldwide as a result of the further developed digital offers."
Falk said the move to hybrid was backed by the gaming community. He said, "Without doubt, the preparations for all people involved will be much more demanding than usual in the light of this special situation. But the enthusiasm of the gaming community definitely makes these efforts worthwhile."
GamesCom is not the only event going hybrid in 2021. Many events that were cancelled in 2020 due to COVID, or happened only virtually like GamesCom, are now taking steps back to normality by offering a combination of in-person and virtual experiences.
Gerardo Tejado, senior vice president, global value development and general manager, American Express Meetings & Events, sees hybrid events as a stepping stone.
"We see the hybrid meeting as the first step towards the return of in-person meetings," he said.
He says, "Not surprisingly, health and safety are the primary considerations when planning in-person meetings and events. Initial face-to-face meetings are expected to be small, regionally focused, and in a hybrid format."
One of the issues for event planners is that a hybrid meeting is effectively two very different events – one in-person and one virtual – and there are associated increased costs. This often means that companies have to engage full-service agencies with skills in areas such as presenter training, pre-recorded interviews, virtual studio space, and video editing.
There are also additional costs to consider that are less evident. If you want to run a wine-tasting session for your event attendees, you need to factor in the costs of getting the wine to wherever the attendees are located, not just at your main event venue.
There is also the pressing issue of attendee experience. If the last year has taught us anything, it is that it is often hard to keep engaged for long periods on a Zoom call.
Despite this, some big players are betting on the appetite for hybrid meetings continuing beyond the pandemic.
The world's biggest hotel chain Marriott is investing heavily in hybrid meetings and has partnered with companies such as Encore, Cvent, Convene, MeetingPlay and Hopin to add technology to their vast stock of meetings and events venues.
In January, Marriott organised an event for meetings planners at the Gaylord Rockies Resort and Convention Center in the US for 100 in-person attendees and 800 virtual attendees to spread the word. Some 95 per cent of the planners who attended said they would be happy to participate in a similar hybrid event in the future, showing that attendee experience was not an issue. More than half said they would organise a hybrid meeting in the next 12 months as a result of their experience of the event.
Hotel group Accor, meanwhile, is launching a new hybrid meetings concept called All Connect this month in collaboration with Microsoft.
This is aimed at small meetings with between 8 and 50 participants and combines Accor's meeting spaces and Microsoft's Teams Rooms and Surface Hub 2S interactive whiteboard technologies.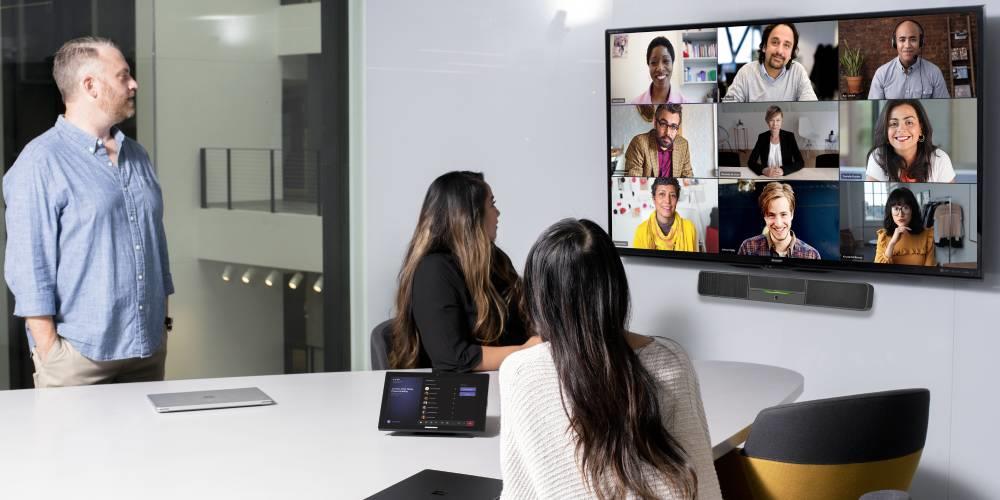 Accor says all of its hotels will offer hybrid meetings by next year and that 70 per cent of its clients see hybrid meetings as an important service even after the pandemic.
Patrick Mendes, the group's chief commercial officer, said: "The COVID-19 pandemic has caused business travellers and meeting planners to review the way they work. Virtual and hybrid formats have become an essential part of daily business life."
Jean-Philippe Courtois, executive vice president and president, Microsoft global sales, marketing & operation, said: "The future of work is hybrid, and the services and experiences which organisations offer their customers will reflect this."
Bedfordshire conference venue Wyboston Lakes Resort is partnering with Maddison Media, a specialist in staged events, to offer hybrid events.
The company's virtual platform offers polling, chat and Q&A, simultaneous captions and translation, data and video capture, bespoke graphics, chat windows, private messaging and unlimited 'virtual' speakers and a sponsor area. Delegates can also register and pay for event passes through the platform.
The venue itself has received COVID-secure accreditation from the Meetings Industry Association, Quality in Tourism and the AA.
Louisa Watson, director of marketing at Wyboston Lakes Resort, said: "With current restrictions around large events, hybrid makes them possible, bringing teams, clients and suppliers together. We wanted to create a hybrid events solution that not only replicates but enhances the event experience. Hybrid events are perfect for today because they are safe, infinitely flexible, enhance green credentials by reducing travel, reduce risk and help to keep costs under control – just what organisations need now as they maintain communication and engagement through events."
Event organisers, however, are naturally concerned about the effect of running virtual events on their income. Governments and convention and visitor bureaux are concerned too – virtual attendees do not spend money in-destination.
Linda McNairy, vice president at American Express Meetings & Events, said, "According to data from Evcom/BVEP, in the UK alone, the events industry is worth £70 billion and accounts for 50 per cent of spend in the visitor economy. Virtual meetings can't deliver that value to economies. While theyhave provided a valuable channel of communication when needed, not being able to meet has reinforced the realisation that there is not a substitute for face-to-face experiences."
One upside for event planners is that hybrid events can democratise access to those events. People who were unable to participate in an event previously because of financial constraints, accessibility of the venue or the need to look after a school-age child, for example, may now be able to attend virtually, opening up new revenue streams for organisers and making audiences more diverse.
With companies looking much more closely at the costs of business travel – both financial and environmental – it seems likely that jetting around the world to attend a face-to-face conference will come under increased scrutiny. Hybrid events are here to stay.