Tour the conglomerate capital city of Kathmandu for a peek into the microcosm of Nepal's colorful heritage and culture. Visit the quaint Pokhara city and replenish. Discover peace Lumbini, the Birthplace of the Buddha. Or, find delight in the company of nature next to the lush teeming wildlife in Chitwan.
Enjoy oriental stories that echo the past and engage with art and architecture that bespeak its history and culture. Relish unique ancient carnivals celebrating the joy-loving Nepali spirit, and taste authentic Nepali food prepared from recipes passed through generations.
Go trekking in the mountains; seek life amidst the wilderness of pure nature. Walk through the gigantic mountains and marvel at the workings of the universe. Seek friendship among the best of man in the little hamlets along the trail. If you're a hardcore adventure enthusiast, go rafting, paragliding, sky diving, bungee jumping, mountain biking or mountain climbing. The list goes on.
When you're in Nepal, you're not short of options. Visit Nepal for a lifetime experience.
Nepal has the highest mountains in the world, some of the most exotic cultures and festivals, and a varied range of biodiversity. It is known as the Land of Mt. Everest and the Birthplace of Lord Buddha. To a traveler from the west, visit to Nepal is an enriching and enlightening experience, considering the novelty of the experience offered in Nepal, in contrast to what a normal tourist destination offers. In this age and time, most travelers are looking for meaningful experiences and Nepal, offers just that. Visiting Nepal is a lifetime experience.
Nepal is very popular destination for repeat visitors. If you plan your Nepal trip well, there are always more exotic places to be seen and more unique experiences to be had. Beautiful, exotic belt lies along the Himalayan belt, most of them yet to be explored. Our efforts are on to promote these areas, and orient the local community regarding tourism. Tourism development in these new areas, especially alternative routes and activities, is bound to give more authentic experiences to tourists who have already done the most popular tourism spots and activities.
Wildlife, homestay, village tours, cultural tours, handicrafts etc. are ecotourism activities that enrich the visitors' experience. Therefore, efforts are on to promote these activities as a part of the trekking experience. These activities and most other ecotourism activities are equally important to us, as they complement the primary product and help towards enhancing the trekking experience of visitors.
Nepali people are indeed very much known for their genuine nature, warmth and hospitality. Hospitality is a part of Nepali culture. Back in the days, when people walked or rode on horses to get from one place to another, there was a tradition of people resting overnight at random village houses on the way. It could be the house of a relative, a friend, an acquaintance or even a stranger. That is how people managed to go long distances from the Himalayas to the Terai and vice versa.
Total strangers were welcomed into homes and offered food, water and rest for the night. Guests who arrived at dusk were even believed to be sent by the Gods. Therefore, the concept of homestay is not new to Nepal. Today, the same concept modernized to give additional value to tourists in terms of experience. It is gaining popularity, as most tourists enjoy the experience of a Nepali homestay, while the local population benefits through the economic activities and empowerment.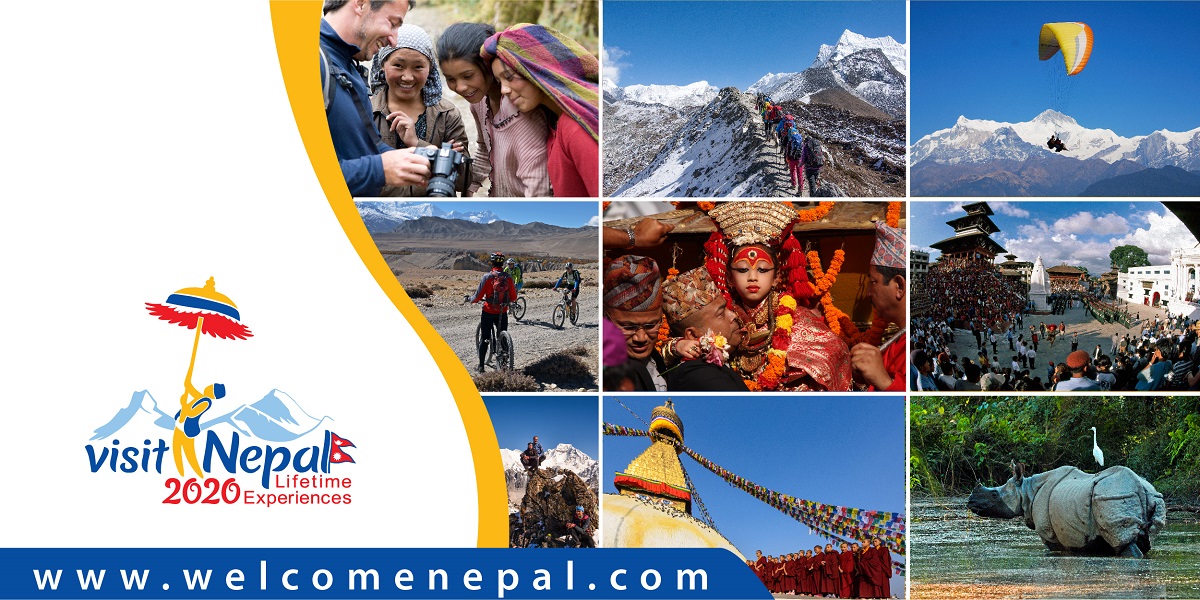 With a variety of adventure options available, from mountaineering to trekking, rafting, mountain biking, paragliding, flying in ultralight aircrafts, bungee jumping, sky diving, canyoning and mountain flying, Nepal is a top adventure destination in the world. Similary, luxury holidaying is also a very much an option here. Comfortable tours are offered in Kathmandu, Pokhara, Chitwan and Lumbini. These established destinations are filled with lavish hotels and resorts offering sumptuous experiences. City activities range from city tours, local cuisines, cultural shows, casinos, herbal massages and spas to clubbing and golfing.
These destinations offer a brush with nature in style and comfort, boating around lush lakes, seeing wildlife on jungle safaris, seeing the best views of mountains from your own warm cozy bed, cable car rides to hilltop resorts, and mountain flights to see the whole panorama of the mountains, to name just a few.
Europe is directly connected to Kathmandu via Doha, Dubai, Bahrain, Abu Dhabi in the Middle East, and Istanbul in Turkey. Connection through Delhi, Bombay in India and Bangkok in Thailand are also used by many.
Additional international airlines are expected to start operation in this sector in the near future. Nepal's own national flag carrier, Nepal Airlines, is also expected to start operating in this sector as its fleet expands. Similarly, international airport constructions are gaining momentum in different parts of the country to reduce the bottleneck of the air capacity. Soon there will be more than one international airport in Nepal, which would help in increasing the tourist arrival numbers from all over the world, including Europe.
Nepal is trying to enhance the experience of trekkers through cultural interactions and meaningful engagements. Therefore, the Nepal trekking experience is certainly evolving for the better.
As for safety, it is definitely a priority and always has been. Apart from a few sporadic incidences, tourists have always remained safe in Nepal. With the technological advances, communication is now easier even when one is trekking up in the mountains. There is also greater awareness about tourist safety issues among the local community, and tourist police are available for issues to be reported.
Nepal is looking forward to welcome 2 million visitors in 2020. To achieve this, there will be major promotional activities through digital as well as traditional media. Special programs will also be organizing with offers for tourists, and customized experiences for the potential travelers, so that our visitors get best of Nepal for a lifetime of memories.
Nepal Tourism Board will be at WTM London this year on stand AS158. Visit their page to find out more.