Over the last few years, technology has made an appreciable impact on the travel and hospitality sectors, improving efficiency, reducing costs and providing enhanced customer experiences. Today, as fintech solutions develop at a rapid pace, the travel and hospitality industries are beginning to modernise further, exploring new ways to handle online payments as they rebound from COVID-19.
The industry's adoption of new payment technologies couldn't come at a better time. According to recent market research from ECOMMPAY, almost a quarter of UK consumers believe that travel companies could offer better or improved payment services, including more options to pay a deposit or request a refund. The hospitality sector follows this figure closely, with 17% of survey participants seeing room for improvement when it comes to payment services.
Let's examine some of those perceived issues and how fintech solutions can fix them.
Poor website security increases fraud & ruins conversion
39% of consumers have experienced issues in the payment process when booking a travel experience or a stay in a hotel. Doubts about the security of checkout pages and payment processing were the most common issues encountered. Although you could argue that those doubts are more perception than reality, the stats do, in fact, back up consumer concerns: 45% of respondents in the Statista survey reported a significant increase in cyber fraud risk since the COVID-19 pandemic began.
So how can fintech help to mitigate fraud?
First and foremost, businesses should always choose a payment provider that can achieve the required levels of security and efficiency on their checkout pages and during payment processing. If possible, it's preferable to choose a company that offers their own in-house anti-fraud systems, as they're invariably more flexible, with customisable settings and filters that not only cut down massively on fraudulent transactions but do so without ruining checkout conversion rates.
Another layer of defence offered by modern payment providers is 3-D Secure, a protocol used to authenticate cardholders' identities. 3-D Secure is designed to allow users to authenticate their identity via a pin, password or banking app to prevent payment fraud and reduce chargebacks.
Fraud prevention may be a complex topic, yet travel and hospitality businesses can successfully overcome any related challenges by partnering with a payments provider that uses proven technology, artificial intelligence and human expertise to score incoming transactions to identify the common features and patterns of fraudsters.
Perception is everything — especially when it comes to checkout pages
Although consumers are often right to perceive certain checkout pages as a security risk, many legitimate sites suffer from shopping cart abandonment simply because their checkout pages are perceived as untrustworthy. A 2021 study by Baymard Institute revealed that 17% of online shoppers abandoned carts because they didn't trust the website to look after their credit card information.
So what can fintech platforms offer the travel industry to improve the perception of their checkout pages?
Customisable payment pages to provide a unified look that matches the rest of the company's branding.
Improvements to UX and responsive design that displays properly across all screen sizes, including mobile devices.
Payment confirmation via Face ID and Touch ID, whilst communicating to end-users the security credentials of the checkout using predominantly placed logos of payment systems, PCI DSS certificates and Visa Secure and Mastercard ID Check, along with the company's privacy policy.
As well as reducing shopping cart abandonment, fintech platforms can help to create a frictionless shopping experience with a greater variety of payment methods. Ultimately, this improves conversion across the board and is something from which all merchants can benefit.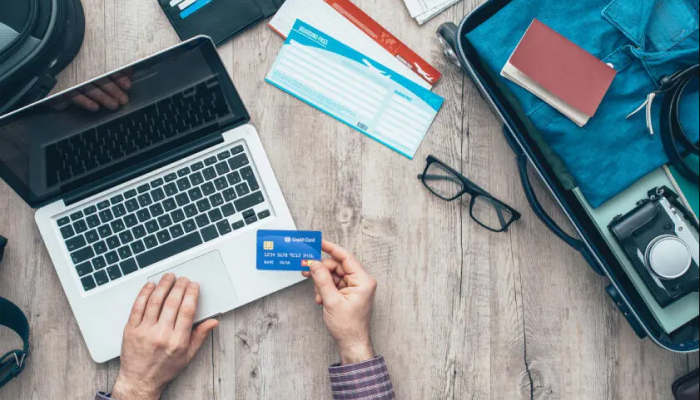 A lack of payment options and flexibility at checkout
Over a third (35%) of UK consumers have needed to split payments for a travel experience, with 17% agreeing it would be easier to split expenses at the point of booking, rather than arranging bank transfers between the travelling group.
In addition, according to ECOMMPAY business and end-user surveys conducted in 2021, approximately 25% of end-users would be prepared to abandon a checkout page if their preferred payment method wasn't listed. The high motivation to purchase travel experiences often means that the absence of a preferred payment method won't necessarily result in a cancellation. However, with 80% of consumers ranking easy payment and efficiency as defining factors of a strong customer experience, it pays to offer travellers as many popular and convenient payment methods as possible.
Fintech solutions offer a greater variety of payment options
As well as offering all of the convenient modern payment methods consumers prefer (and expect) in 2022 such as Apple Pay and Google Pay, fintech payment platforms are enabling travel and tourism companies to integrate some interesting and increasingly popular alternative payment methods.
Pay by Link: Although not a payment method as such, payment links act as one-time digital invoices containing booking data and payment details. Links can be sent by email, messenger, or other methods, and upon receipt, customers can pay using their preferred method. Payment links allow the cost of a travel booking to be easily split between a group of people, whilst 3DS technology helps to reduce the chance of a chargeback.
Buy Now, Pay Later: Effectively a point-of-sale loan, BNPL plans allow customers to pay in several smaller interest-free instalments without lengthy credit checks. 46% of travel and aviation industry survey participants thought that their customers needed more options and flexibility with BNPL models, so it's no surprise to see a rise in interest for this payment method in the travel sector — though, of course, providers are responsible for informing and educating clients about the financial risks of BNPL schemes.
Cryptocurrencies: Although we're a long way away from seeing cryptocurrency payment options at mainstream travel agencies, high-end services such as private aviation operators are increasingly offering digital currency payment options for high-ticket bookings. In ECOMMPAY's survey, 34% of businesses interviewed identified the rising demand for crypto payment options as a challenge, so momentum is definitely building for popular currencies such as Bitcoin.
A word on Open Banking and its benefits
Open Banking is a relatively new payment technology that provides access to consumer banking, transaction, and other financial data from hundreds of major consumer and business banks across the EU and UK. The ecosystem allows instant account-to-account payments, simple verification, and easy access.
Open Banking offers plenty of advantages to travel operators, including lower transaction costs. Because providers instigate bank transfers on behalf of the end-user, the risk of chargebacks is also eliminated. For consumers, the benefits include faster, more user-friendly payment experiences and increased security.
Wrapping up
The changing expectations of end-users at a time when the travel industry is bouncing back from unprecedented restrictions means operators and agencies need to understand the importance of adopting the latest fintech solutions. With the help of a trusted payment partner, travel and hospitality businesses have a unique opportunity to apply the most efficient fintech solutions to minimise cart abandonment, enhance conversion and provide a frictionless payment experience.
---
World Travel Market London is where travel and tourism companies can promote their products as a paid-for opportunity. If you'd like to showcase your product, get in touch with the WTM London Sales team.