Start-ups play a pivotal role in generating economic expansion. Leaders in innovation, they create a more well-rounded and better-functioning economy, benefitting consumers, businesses and industries. They contribute to lowering unemployment, improve the competitive landscape and drive sectors to become more creative.
According to the World Economic Forum, the value start-ups create is nearly on par with the GDP of a G7 economy and even in 2021, during the height of the pandemic, start-up funding surpassed $600 billion, shattering funding records. The number of unicorns – start-ups with a valuation of $1 billion and above – has surpassed the 1,000 mark and is growing exponentially.
In the Middle East and North Africa (MENA), start-ups raised $3.94 billion in 2022, led by the UAE ($1.85 billion) and Saudi Arabia ($907 million), according to wamda.
And last month (September 2023), the UAE's Minister of Economy, His Excellency Abdulla bin Touq, told media the development of start-ups' contribution to the economy would help the country achieve its target of doubling UAE GDP by 2031. The UAE also aims to be home to 20 unicorns by 2031, double the number initially planned.
His Excellency referred to The Future 100 initiative, launched in December 2022, which aims to identify, honour and support promising SMEs contributing to the UAE's future economic success, highlighting space, renewable energy and emerging technology.
Unleashing travel start-up potential
The Minister also referenced intelligent mobility, the metaverse, e-commerce, 3D printing, the on-demand economy, Web3, the sharing economy, blockchain, sustainability and many more sectors where start-ups can drive innovation, boost economic output and put the UAE on the global map as a pioneer of solutions to benefit global citizens.
All of these sectors have positive implications – and applications – for the travel industry, creating start-up opportunities aplenty.
In my previous ATM blog, The power of entrepreneurs and start-ups to transform the travel landscape, I outlined the many ways in which entrepreneurs and start-ups can enrich the travel and tourism industry.
It's for this reason that the sector's leading trade show in the Middle East, Arabian Travel Market, has announced that its 2024 edition will be themed 'Transforming Travel Through Entrepreneurship'.
Taking place at the Dubai World Trade Centre from 6-9 May, ATM 2024 will throw the spotlight on innovators reshaping the sector, and in particular, demonstrate how the spirit of entrepreneurism can be harnessed to create a more sustainable travel industry.
From a global perspective, the potential for travel start-ups is huge, yet relatively untapped. Over the past 15 years, travel and tourism received around 1% of funding for start-ups across all industries, according to Mckinsey.
This relatively low level of investment stands out in contrast to the industry's size, contributing to more than 10% of global GDP in 2019, with the World Travel and Tourism Council (WTTC) forecasting this will increase to 11%.
While the figures suggest funding challenges for the sector, more than $27 billion worth of investments were ploughed into travel companies from 2020 to 2022. And, despite unprecedented pandemic-related challenges, travel start-up investment hit a new record in 2021 of just under $11 billion, indicating investor appetite in travel pioneers.
UAE takes the lead

With the UAE championing entrepreneurship as the cornerstone of its growing economy and ranking number one in the Global Entrepreneurship Monitor (GEM) National Entrepreneurship Context Index (NECI) for the second consecutive year in 2023, it is no surprise the country is at the forefront of nurturing new industry talent.
Travel and tourism is a priority, contributing AED167 billion to its economy in 2022, the equivalent of 9% of GDP, according to the Ministry of Economy. This is set to rise to more than 10% of GDP in 2023, the WTTC has forecast.
One of the country's most successful travel start-ups to date is Dharma, an Abu Dhabi-based B2B travel management platform, which this month (October 2023) revealed its latest funding round had raised $4.7 million, bringing its total equity funding to $10 million. That's just five years following its 2018 launch, proving the economic impact of start-ups in the travel sector is significant.
Dharma recently teamed up with Paramount Global to launch 'Paris by Emily', the first official travel experience for the Netflix hit Emily in Paris. Funds raised will be used to expand the company's multi-day travel experiences in "new verticals such as culinary, sports, fashion and lifestyle tourism".
"Our goal is to continue attracting and retaining the most inspiring people and brands in the world by enabling them to create and host authentic travel experiences for their communities," said Nisma Benani, Dharma's chief revenue officer and co-founder.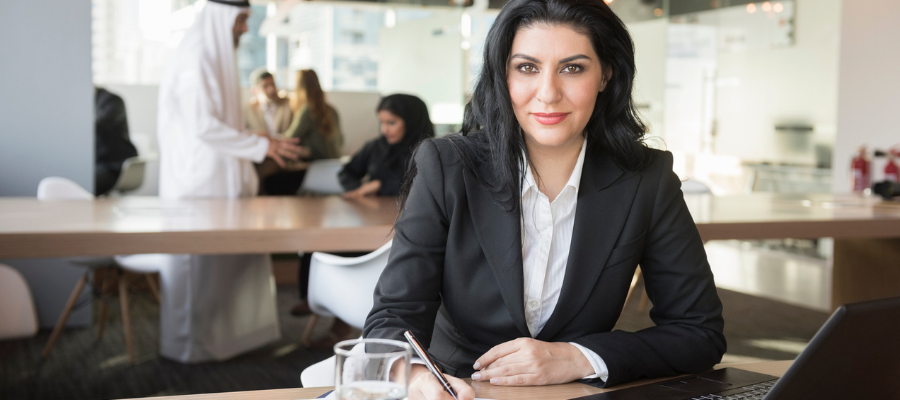 Dubai sets the pace
Up the road in Dubai, where start-ups collectively raised more than $2billion in 2022, double the financing secured in 2021, according to a report by Dubai Chamber of Digital Economy, start-ups, entrepreneurs and SMEs are supported with a range of initiatives.
They include Intelak (translates to "taking off" in Arabic), led the Emirates Group, Dubai's Department of Economy and Tourism (DET), Accenture, and Microsoft, which launches, nurtures and scales start-ups that support Dubai's position as a leader in aviation, travel and tourism.
Based in Dubai, the start-up platform comprises an Incubator, Accelerator, and Idea Lab and to date, has provided more than $381,000 in equity-free seed funding and $327,000 in resources.
Since launching in 2016, Intelak success stories have included Dubz, a winner from the first cohort, which provides a tech-driven service to airline passengers, delivering bags before or after a flight. dnata, a subsidiary of the Emirates Group, took a majority stake in Dubz and the two companies are now offering the home check-in service to passengers in Dubai.
Another winner from the first cohort, The Conceptualisers, is working to make in-flight food trays lighter, ergonomic, and more easily stowable. The start-up has support from an angel investor and has partnered with a composite core material developer.
More recently, Intelak successes have included UIQT Inc., which is developing a travel booking platform that determines user preferences in order to make suggestions for tours booked by people with similar preferences, while Airspace is developing 'Blockbook', which aims to use blockchain technology to enable seamless verification and validation of aircraft records for maintenance operations.
16Trips is an educational travel marketplace that connects young travellers and students with educational-experience providers and opinion leaders to build unique travel experiences and Travezy is developing an inventory-led travel model based on blockchain and will offer Travezy Flash sales and Club Travezy memberships for travellers.

Initiatives like Intelak not only grow economic output, but the knowledge economy too, with start-ups and established businesses learning and developing in tandem, as Emirates Group CTO Alex Alexander explains: "Intelak Hub provides an unmatched opportunity for start-ups to connect with the world leaders in innovation, travel, tourism and aviation, to be inspired and to inspire those of us fortunate enough to be involved. The Emirates Group has seen immense success in partnering with Intelak Hub start-ups already, mentoring them, learning from them and helping to evolve their products for commercial success. The passion the founders and their teams have for improving the way people travel is incredibly inspiring and I have no doubt they will have a real, lasting impact on our industries into the future."
---
Join us at Arabian Travel Market Dubai
The market leading travel and tourism event brings the whole world together in Dubai, UAE.
Join us from 6–9 May 2024 at Dubai World Trade Center.
---