The Resolution of the 70th United Nations General Assembly to designate 2017 as the International Year of Sustainable Tourism for Development has shone the spotlight on tourism. Tourism will either shine in the spotlight, or the light may reveal that the sector has limited evidence for its sustainable development impact. Coming so soon after the UN adoption of the Sustainable Development Goals, the sector is challenged to demonstrate its contribution. The UNWTO points out "the International Year aims to support a change in policies, business practices and consumer behaviour towards a more sustainable tourism sector than can contribute to the SDGs." In 2017 International Year of Sustainable Tourism for Development. The UNWTO is inviting "Governments, relevant organizations of the United Nations system, international and regional organizations and other relevant stakeholders," to join with it in celebrating 2017 as the International Year of Sustainable Tourism for Development.
World Travel Market is committed to work with UNWTO to identify and celebrate examples of the travel and tourism sector's contribution to the UN's Sustainable Development Goals. There are 17, to many of which travel and tourism contribute.  Tourism is specifically mentioned in three of of the goals, as referenced in Tourism and the SDGs:
Promote sustained, inclusive and sustainable economic growth, full and productive employment and decent work for all.
"By giving access to decent work opportunities in the tourism sector, society- particularly youth and women- can benefit from enhanced skills and professional development. The sector's contribution to job creation is recognized in target 8.9. By 2030, devise and implement policies to promote sustainable tourism that creates jobs."
Ensure sustainable Consumption and Production patterns.
Target 12b is key here: "Develop and implement tools to monitor sustainable development impacts for sustainable tourism which creates jobs, promotes local culture and products."
Conserve and sustainably use the oceans, seas and marine resources for sustainable development. "Tourism development must be a part of integrated Coastal Zone Management in order to help conserve and preserve fragile ecosystems and serve as a vehicle to promote the blue economy."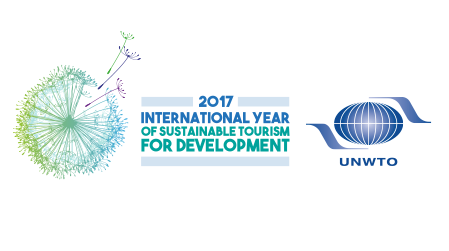 The International Year of Sustainable Tourism for Development (#IY2017) is focussed on five key areas:
Inclusive and sustainable economic growth
Social inclusiveness, employment and poverty reduction
Resource efficiency, environmental protection and climate change
Cultural values, diversity and heritage
Mutual understanding, peace and security.
At WTM London in November 2016, there was a panel on tourism and the SDGs where UNWTO, TUI, IHG, Exodus and Transfrontier Parks Destinations presented their contribution to the SDGs:
At WTM London in November 2017 there will a series of panels on tourism and the SDGs, and they will be at the core of the World Responsible Tourism Awards presented there.
The SDGs also feature in panels across the World Travel Market portfolio. View the events for WTM Latin America, WTM Africa and Arabian Travel Market.
More details on the UNWTO campaign can be found in the 70th Session of UN General Assembly (2015).