Thomas Cook has just launched a new three-year sustainability strategy, promising to "Make a Difference with Every Holiday". Their ambition is to make a positive contribution to the destinations they feature and to reduce their environmental impacts in the UK, on the journey and in the destination. Peter Frankhauser announced two years ago that Thomas Cook was putting the customer back at the heart of the business and the new sustainability strategy is closely linked to the customer journey.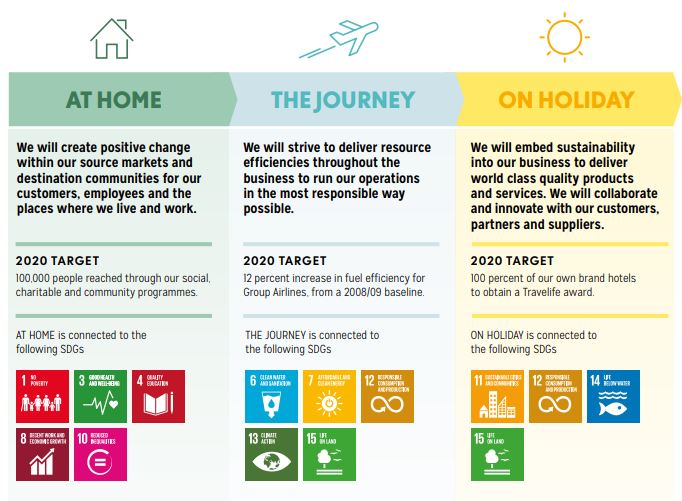 Thomas Cook, like TUI, has aligned their priorities with the UN Sustainable Development Goals and set clear targets. Thomas Cook has long been committed to charitable engagement in the UK and its source markets as well as in destinations.
Their 12% increased fuel efficiency target for 2020 over a 2008/9 baseline is specific, the sooner all airlines are publishing data on a comparable basis the better for consumer choice, and then competition will begin to drive more rapid progress on emissions. Travelife welcome Thomas Cook's decision to ensure that all of their own brand hotels are Travelife certified by 2020.
Frankauser rightly recognises that "… standards within tourism are not strong or ambitious enough to deliver the outcomes" the industry needs "to deliver a fairer, more sustainable and ethical future." Thomas Cook are active again on sustainable tourism and they are taking responsibility with a new strategy sharply focussed on three key targets of maximising their charitable impact, improving fuel efficiency, and ensuring that all their own brand hotels are Travelife accredited.
Thomas Cook is seeking to engage their customers by describing what the company is doing to reduce carbon emissions and providing a list of things a consumer can do to reduce their energy consumption, reducing their emissions and their fuel costs.
Encouraging their customers to play their part and to make a real and positive impact on the places they visit on holiday they have provided some tips:
What Can Holidaymakers Do? 
We're passionate about the places we visit and want to protect and preserve them for future generations to enjoy. We're sure it's a passion you share so here are some ideas:
Look after the natural environment:
Leave anywhere you visit even better than when you found it. Dispose of litter carefully (fire is a serious hazard in hot, dry countries so be careful with that cigarette butt!) and recycle where possible.
Respect local traditions and people:
Observe any dress codes and behave appropriately. It may be your holiday but it's their home. Try using a few words of the local language.
Always ask before taking someone's photograph
Some people find this intrusive while others may ask for money for this small service.
Haggle with humour:
Do haggle – it's part of the fun. But remember that what may be a small sum to you may be significant to the seller, so try to be fair, too.
Resist giving money or gifts to begging children:
It may make give you that feel-good feeling but you may be adding to other problems behind the scenes. Give to a local charity or school to ensure the money goes where it is most needed.
Buy locally made products and use local services:
Eat at local bars and cafes. Ask about excursions using local guides and drivers – they have insider knowledge! Putting money into the local economy helps local people and gives your holiday an extra dimension.
Reduce the use of natural resources and energy:
Take a quick shower instead of a bath; re-use towels; switch off lights and air con when out; try the local bus service, hire a bike or walk – you'll see more that way!
Please don't take 'natural' souvenirs away:
Wild flowers and plants, pebbles and sea shells, should all be left where you found them for others to enjoy.
Don't buy products made from endangered plants or animals:
This includes hardwoods, corals, shells, starfish, ivory, fur, feathers, skins, horn, teeth, eggs, reptiles and turtles. For more information on endangered species visit the WWF-UK Souvenir Alert Campaign.
Avoid wild animal displays:
This includes dancing bears and having your photograph taken with monkeys, snakes and exotic birds. These animals are often taken from the wild when they are very young, mistreated and killed when they become difficult to handle.
Child Sex Tourism is a Criminal Offence in all Destinations so please help us keep children safe everywhere:
Travellers tips: For 7 top tips on how to keep children safe around the world, visit the Childsafe website.
Report it: If you would like to report an incident, contact Crimestoppers. From the UK dial Freephone 0800 555 111. From Overseas dial +44 800 555 111.
More information is available from ECPAT UK (End Child Prostitution, Pornography and Trafficking).
Find out in the Travel Foundation's "How to Make Your Holiday Greener"
Thomas Cook's 2017 Sustainability Report Making a Difference with Every Holiday is available online.