From a consumer or traveller perspective there are many answers, but it is not difficult for a traveller or holidaymaker to say why they are travelling. It could relate to business, leisure, adventure, pilgrimage, to visit family and friends, to play golf or to watch their team.
It's much more difficult from a destination perspective. The industry often simply wants more, accommodation providers in particular. They look to city and national governments to attract more tourists, more overnight visitors. The industry looks to government, the public purse, for its marketing and to attract and stage events which bring them their clients.
This raises the question, why?
What is tourism for, from a destination perspective? Why spend tax payers' money to bring tourists who arrive in significant numbers, create or worsen congestion, drop litter, and use the public realm for free? The British Museum tops UK visitor attractions list, attracting 6.82 million visitors last year – with no entrance fee.
Increasing numbers of destinations are addressing whether we're going to use tourism, or if it's going to use us.
New Zealand takes the yield and distribution of its tourism seriously, where numbers matter but the yield is more important than arrivals. Prime Minister and Tourism Minister John Key put it this way "New Zealand needs tourists who spend more money, rather than just more people through the airport gates."
The Seoul Declaration on Fair Tourism declared "more emphasis must be placed on the yield that the city gets from tourism, the jobs and sustainable development created, rather than on simply arrivals and bed nights."
More destinations are confronting the new challenge of overtourism.  In Barcelona the balance between the spending of resources on promotion and the management of tourism has shifted to management. Questions are being asked about how many tourists are acceptable, as we can have too many tourists. Overtourism is a growing issue resulting in public protest. There are plenty of images.
Visit Copenhagen has launched a new campaign announcing the end of tourism as we know it: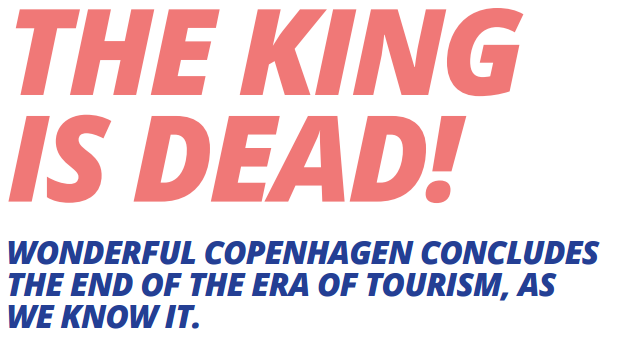 "We welcome the arrival of today's traveller: the temporary local seeking not the perfect still picture to take home, but the emotional connection to an instantly shared experience based on interests, relations and authenticity."
"We in Wonderful Copenhagen refocus on our industry as one of societal impact and value…. "
The new campaign offers the experience of temporary localhood, asserting that the locals are the destination and moving from marketing to enabling.
"The DMO's role is shifting towards developing and spotlighting the right kind of experiences and engaging the right people at the right time to tell the right stories about the destination based on a shared strategic branding framework."
The End of Tourism as we Know It is a clever spoof and thought provoking – it's worth reading.