If you are looking for the next big thing for destination marketing, you need look no further than Snapchat's geofilters. A growing number of DMOs are investing in the pop-up frames launched by the here-today-gone-tomorrow social network in February 2016.
So what actually are they?
If you have spent any time on Snapchat, or have glanced at a teenager's smartphone recently, then you will know that filters, particularly those of animal faces, that you can overlay over your own image or video are huge right now. Smart marketers have recognised the trend and started using them for their own purposes.
Geofilters are a refinement on this idea. These filters are available only in specified locations and for a limited amount of time. This makes them ideal for associating with events, such as festivals, and is why destinations from Denmark to Philadelphia have started using them.
Using geofilters can be very cost effective. Pricing starts at $5 and increases according to the area which it covers and the length of time it remains active. The geofence enclosing the area you want has to be between 20,000 square feet (around a quarter of a football pitch) up to 5 million square feet (about two and a half times the size of London's Westfield White City shopping centre). The geofilter can remain in place for anything between one hour and 30 days.
You can be pretty creative bout what to include but certain things are banned, such as URLs, social media usernames, hashtags and download instructions.
Usng them has become easier since the end of August when Snapchat added a tool to allow people using geofilters associated with event, such as birthdays and weddings, to create geofilters without having to use specialist photo editing software.
One of the first destinations to use geofilters successfully was Visit Philadelphia.
Dana Schmidt, Visit Philly's Director of Social Media, says it started with geofilters in May when the destination soft-launched its Snapchat account.
"We were just testing some of the capabilities but it just happened to be timed with a Snapchat Live Story in Philly which anyone could tune into. We thought it was a good time to get branding around popular locations, such as City Hall, the Love statue and Independence Mall."
One of the geofilters on Independence Mall, the park which is home to the Liberty Bell and the Old City Hall, associated with an event proved particularly popular with people who were not even part of the event itself.
"We realised there were young kids going through the park all the time. They were giving us a bump. We heard the field trips coming through and they were selecting our filter," says Dana.
Since launching its Snapchat account, Visit Philly has run 52 geofilters. Although Snapchat's analytics for geofilters are fairly basic, they can give you some idea of your return on investment.
"We have had four million views of those filters from 16,000 users, which is phenomenal," she says. "We are averaging 93 cents per use and under 1 cent per view."
It is hard to track individual uses beyond these statistics but they often get reported on Instagram. "From Instagram, we have seen a lot of families have been using the geofilters but it has definitely been younger than what we have seen with other channels," says Dana.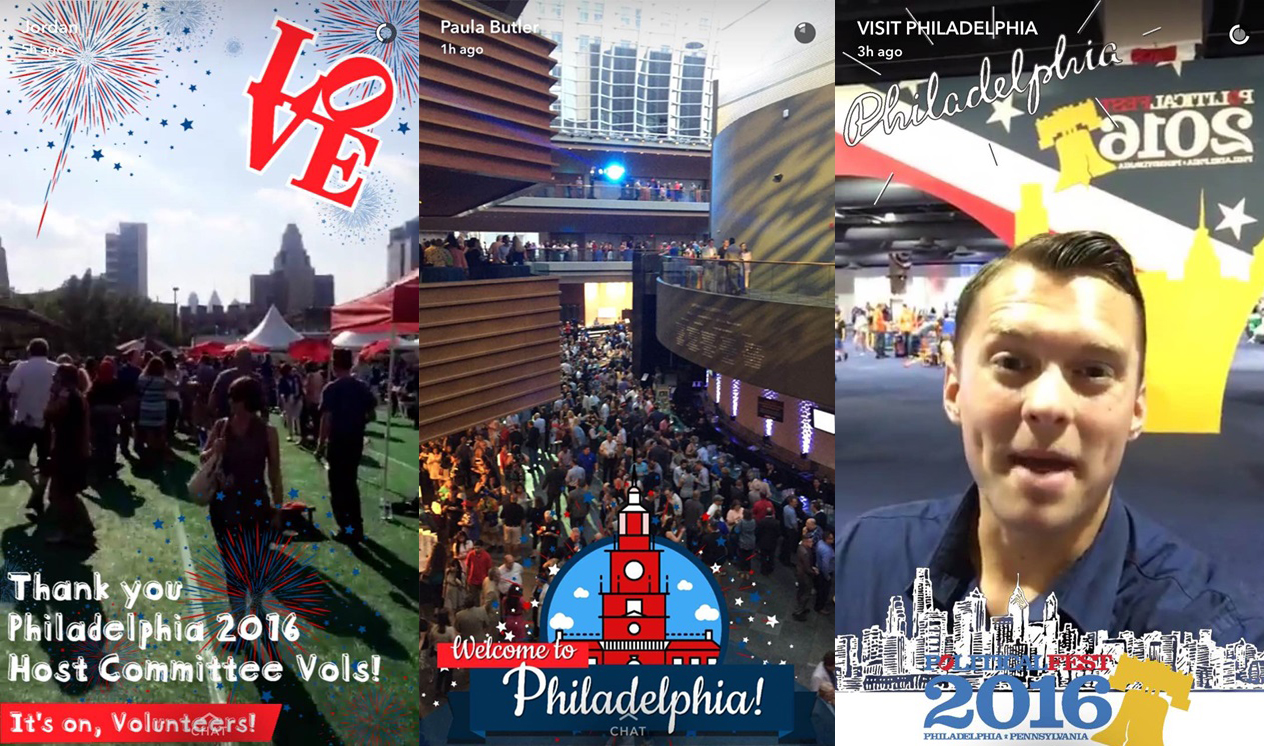 One of the biggest uses of geofilters occurred during July's Democratic National Convention (DNC) in the city in July. Visit Philly's in-house creatives worked with the DNC's creative team to create 23 geofilters during the political event.
Visit Philly's Director of Communications Paula Butler says, "The DNC gave us a great kickoff point."
"People have embraced our brand over the years," says Paula, highlighting the popularity of having your photo taken by Philly's Love and Xoxo statues. "Now it's great to see people snapping and selecting the Xoxo geofilter."
You can hear Paula talk about Snapchat geofilters and real-time visitor engagement at World Travel Market on Wednesday 9th November at 12.15 in the WTM Inspire Theatre.