If I talked about a social network with hundreds of millions of users based around a feed of content curated from the best of what your friends, influencers and businesses and others that you like are posting then you wold probably think I am talking about Facebook. But no.
I am talking about the new look TripAdvisor, coming to a smartphone or computer near you any day now.
TripAdvisor this week announced its plans for a radical new look which is currently in beta and will roll out globally by the end of the year.
Steve Kaufer, co-founder and CEO, said of the launch, "TripAdvisor is poised to disrupt the travel industry once again as we create a more personalised and connected community. The new TripAdvisor is the one travel site that brings together social-assistive tools, amazing content and our existing booking capabilities to merge the joy of planning and discovery together into a single experience."
The idea is that what TripAdvisor is calling "the world's first travel feed" will enable users to get inspiration from friends and other travellers as well as travel brands, social media influencers and travel publishers all in one place and then make it easy to book it.
The new look (see below) borrows heavily from the established social media playbooks – profiles with big pictures, the ability to follow, like and share content and they are already getting influencers and other content creators on board to get everyone excited.
Influencers are central to the new proposition and the platform is working with a number of travel and lifestyle bloggers already with plans to expand this.
One of those involved in the beta is Eric Stoen who quit his job in 2014 to set up Travel Babbo.
He told me this week, "I got involved with the TripAdvisor beta because it's a way to reach a new audience – an audience that's already looking for exactly what I've posted. I'm always writing about our travels, on my blog and on social media, but there's really no perfect way for my work to be seen. If my posts are on Instagram or Facebook, I may inspire someone to travel to a destination…someday. But when that person buys a ticket and is now looking for a hotel and what to do, he/she likely isn't going to remember to visit my website, and I may or may not come up in a Google search. TripAdvisor, though, is the default destination for people looking for things to do and places to stay."
One of the most interesting features of the new-look TripAdvisor is Trips, a way of quickly pulling together a travel guide, which can be public or private, or just a simple itinerary or bucket list.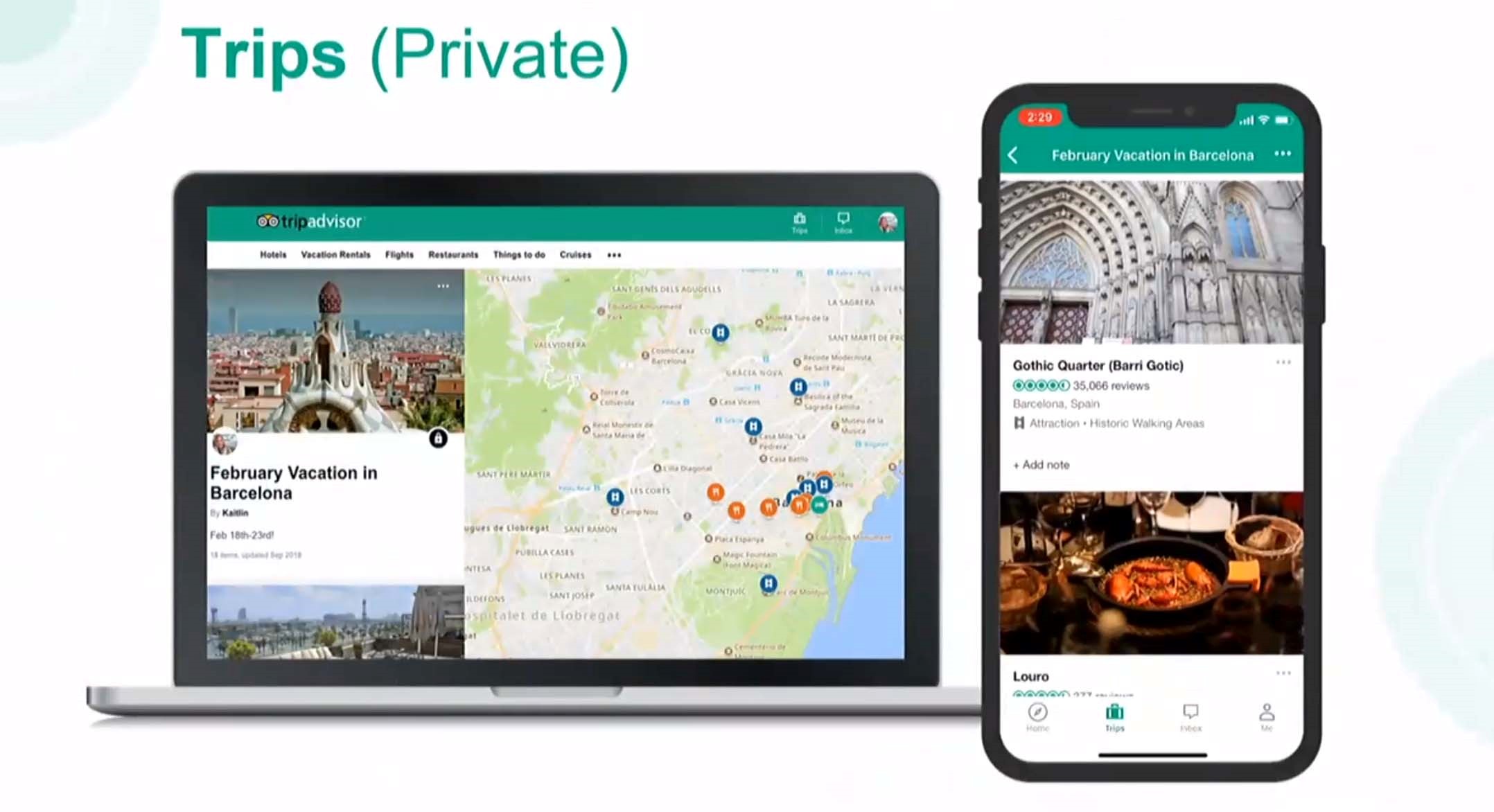 Stoen says, "People ask me for Florence restaurant recommendations all the time, but I usually just send off an email. Now I can quickly create a "Trip", add my favourite restaurants from TripAdvisor, and all of a sudden I have a consolidated list to send to people. And all the better if someone else finds that list in the future and then clicks through to my website to see all of my posts on Florence."
Kaufer added, "We're opening up the platform to content creators around the world and we expect the number to grow to tens of thousands over time."
"I'd highly recommend that other influencers get involved," says Stoen. "Everyone has a TripAdvisor account anyway. Now people can simply add photos and external links and tie them to destinations (even if they haven't done a review). It's a great way to gain (and inspire) new followers."
TripAdvisor's Jeff Chow revealed that publishers and brands like National Geographic, GoPro and Goop are involved in producing content. Altogether, there are some 500 partners in the beta stage.
Moving from inspiration to booking is clearly a key feature. "We have made everything actionable, so you can book it now. There is no other place that can you get excited by an idea and then fulfil that in one step," he claimed.
It is a bold move from TripAdvisor, which is already one of the most influential players in online travel. The company says it has 456 million unique monthly users, more than 630 million reviews, growing by more than 300 every minute and influencing 10.3% of global travel spend.
The company has grown huge through acquisition and organic growth and getting a new way of using the platform has been long overdue.