Before diving specifically into hotel loyalty, let's examine if business travelers are interested in loyalty at all. Business travelers are the main users of loyalty programmes, 78% belong to hotel loyalty schemes compared to 28% of the total population, and have traditionally benefited from saving up loyalty points for personal use. Today's business traveller, however, is changing. With the growing gig economy, the future of business travel is expected to be very different. As work becomes more flexible, more start-ups and more entrepreneurs looking to satisfy their travel needs are expected to emerge. And with boundaries between luxury and business blurring, personal preferences become increasingly important, while traditional travel management companies may fall out of favour. Brand loyalty among business travellers, then, might wane over the coming decades, as more lodging options, and ways to book them, become available to them. Hotel companies will be forced to change their pursuit of loyalty accordingly.
Today's online travel booker and the impact on loyalty
The internet has changed the booking landscape, with severe consequences for brand loyalty. Online travel agencies (OTAs), meta-search engines, and increasingly review sites such as TripAdvisor and search engines such as Google, offer a one-stop shop for consumers looking to book their travel accommodation. User reviews and user-generated photos, either on review sites or through social media, are outperforming official star-ratings and professional photos in explaining (or convincing) booking travellers what to expect. The result is that brand recognition and loyalty are of decreasing importance in the booking decision-making process.
Brand loyalty is multi-faceted
The reducing importance of brand name in the booking process is a problem for hotel players. While online travel agencies can bring considerable new business to the hotel, commissions for these consumers can be as high as 10-30% of the booking value.
Attaining brand loyalty, however, is a very complicated pursuit. Academic research shows that loyalty has many facets, and makes a distinction between behaviour loyalty and attitudinal loyalty.
Behavioural loyalty can be defined as the frequency of repeat purchases, and academics and marketing executives have used studies to determine future purchasing and repurchasing behaviour.
Attitudinal loyalty is harder to pin down for companies, and can be defined as the psychological commitment to a brand, and is therefore far less logical and more unpredictable. It is shaped around personal emotions and morals, and constitutes a myriad of feelings. Loyalty stems from a combination of behavioural and attitudinal loyalty.
Growing willingness to share information, but with a catch
It is commonly discussed in the travel industry how consumers are becoming more willing t
o share personal information in exchange for a better service. Euromonitor's 2016 Survey results show that especially consumers in developing countries in Asia Pacific, Latin America and the Middle East are willing to share personal data online.
However, when looking at consumers' willingness to be approached through targeted advertising informed by search results and purchase history, results are more mixed and generally more negative.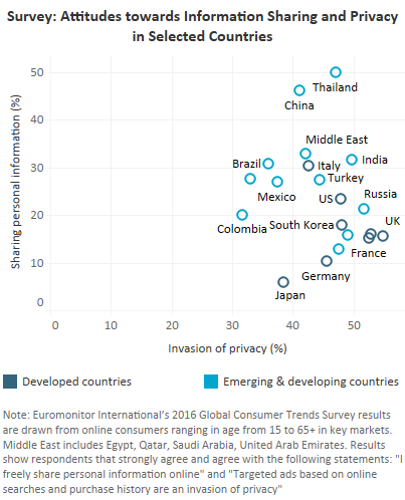 These results indicate that it is becoming easier for brands to attain information from consumers, but still need to be careful on how to get this information and how to use this information. Loyalty programmes can be a way of interacting with consumers, and since consumers will explicitly sign up for these programmes, there is a stronger likelihood that members are invested in, and willing to interact with, the brand.
Going forward: Do loyalty programs instil loyalty?
Location and price are very important to most travellers, and so larger hotels have an advantage when it comes to pulling in new loyalty members and keeping existing members happy. Many Marriott members, for example, would have been very happy with the major increase of hotel properties that the merger with Starwood brought.
In today's booking climate, comparability is easier and therefore location and price have increased exponentially in importance to the average hotel booker. Loyalty programmes do not necessarily instil loyalty. Instead, in best case, loyalty programmes play a (small) part in the average traveller's decision-making process when booking a hotel, and in worst case, they are just a "nice-to-have" feature that does not influence behaviour.
Pre-register here to receive the Top 100 City Destinations Ranking Report.
To meet Euromonitor team, please visit ME366 stand on the WTM Exhibition floor.