Speakers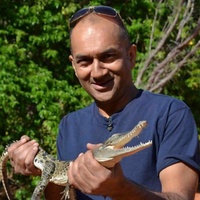 Rajan Datar is an award-winning, broadcaster, journalist and conference moderator whose career has spanned three decades of current affairs, arts, business and documentary presenting, reporting and producing for the BBC.
He is a specialist in travel programming having presented on the BBC's flagship The Travel Show (average audiences of 70 million) for more than a decade and at the beginning of his career hosting one of the first independent youth travel programmes on BBC 2 , Rough Guide to the World. He is currently hosting lockdown specials for The Travel Show and in recent weeks his half hour specials from India and Germany have been rebroadcast. He also recently presented and wrote an award winning Japan five part series for BBC World News.
He is also a long-time presenter on the BBC World Service for the popular strands, The Forum, Over to You and Outlook.
His 40 BBC travelogues have included Mongolia (where he wrestled) Brazil (where he abseiled with refuse collectors in the favelas) and New Orleans (where he played on stage at a music festival) Vietnam.
Caroline Leboucher was appointed CEO of Atout France in May 2019. Before that and starting in September 2014, she used to be deputy managing director of Business France in charge of the promotion, the reception and the support of foreign investments in France. Formerly, she was entrusted with responsibilities related to economic development at the international level in companies and French-administered territories, at the European Commission as well as in ministerial cabinets.
Caroline Leboucher was also a member of the board of directors of the « Sociétés d'Accélération du Transfert de Technologies » (SATTs) IDF Innov and Lutech, as well as of the Autonomous Port of Paris and of the « Établissement public d'aménagement » ParisSaclay. Corps des Mines engineer graduate of the École Polytechnique, Caroline Leboucher is Chevalier de l'Ordre national du Mérite and Commandeur de l'Ordre du Mérite agricole.

Twitter: @atout_france / @LeboucherCaro /
LinkedIn: linkein.com/in/carolineleboucher linkedin.com/company/atout-france
Fruzsina Zakariás, Director of International Relations at the Hungarian Tourism Agency joined the Hungarian tourism board just in time to experience the sector's biggest challenge to date, the shock caused by the Covid-19 pandemic. As the former CEO of the Hungarian subsidiary of a multinational company being present in 14 European countries, she stood the challenge armed with experience and passion. With a strong focus on sales and marketing, she was always interested in building up and developing business. She utilizes this ability to its full extent in the current situation, having created a new sales strategy with her team to rebuild Hungary's international tourism in the post-COVID period in the safest and efficient way, for the benefit of both our precious guests and the Hungarian tourism sector.

LinkedIn: linkedin.com/in/fruzsina-zakarias-60429197/
Niall Gibbons is Chief Executive of Tourism Ireland. He oversees the marketing of the island of Ireland across the world, leading a team of over 160 staff in 21 markets, whose work is underpinned by sustainable destination marketing principles. In 2019, over 11 million overseas visitors contributed over €5.8 billion to the island's economies and supported 325,000 jobs. Niall has led Tourism Ireland's expansion into new markets such as China and the Middle East and has overseen the organisation's emergence as a leader in digital marketing and social media. He developed ground-breaking partnerships with LucasFilm and HBO, which allowed Tourism Ireland to leverage the global success of Star Wars and Game of Thrones, to showcase the island of Ireland overseas in a new way. He has led the development of Tourism Ireland's Global Greening initiative, which has brought tourism to the heart of St Patrick's Day celebrations across the world. The World Economic Forum has ranked Ireland third in the world out of 136 countries for 'effectiveness of marketing and branding to attract tourists'.
Niall is a business graduate of Trinity College Dublin and a Fellow of the Institute of Chartered Accountants in Ireland. He sits on the Irish Government's Export Trade Council, is a member of Culture Ireland's Expert Advisory Committee and an Honorary Fellow of the Institute of Hospitality in Ireland.

Twitter: @tourismireland @niallgibbons