General overview of Social Media, internet and communications in Turkey
There is a huge appetite for digital media in Turkey, despite home internet access being among the lowest in Europe. According to the European Travel Commission, just under half of the population were online by last year.
But with 70% of the 74m population under the age of 35 (and a quarter under 14), there is strong interaction among those with smartphones and/or laptop access.
They like sports, with four out of five internet users in Turkey accessing a sport channel every month, far ahead of any other European country (Ireland ranks second).
And they like to talk. According to monitera.com, the number of Twitter users in Turkey climbed to 9.6 million in 2013, from 7.2 million in 2012.
Twitter and Facebook are the two most accessed channels, particularly the latter, with Turkey ranking fifth in the world for the number of Facebook users, ahead of the UK. An extraordinary 39% of the population are on Facebook.
In an Ipsos survey of 24 countries, reported in the US, Turkey also ranked highly for social network usage, just behind Mexico and Saudi Arabia (91%), then Turkey (90%), Brazil and Indonesia (87%) and Argentina (86%).
It's not just sport and chat that young Turks like. Linkedin reported this year that Turkey is where it is experiencing its fastest growth, as users go online for business connections.
As would be expected, online retail sales are also growing fast, with young women making cosmetics the biggest selling product.
It all makes for one of the most vibrant social media scenes in the world, with Istanbul being talked of as a new digital hub. And with such a young population, the rate of adoption is only going to get higher.
[blockquote style="3″]
What you need to know
While Turkey's young population is very social, only 1.8% connect via a mobile or tablet – the lowest figure in Europe (the highest non-laptop internet connection figure is in the UK, at 16.8%).
Google+ also has high adoption rates in Turkey. Along with Linkedin's growth and high FB and Twitter usage, Turks are embracing all forms of social media.
[/blockquote]
How Turkish Airlines got 150 million views on YouTube
[ot-video type="youtube" url="https://www.youtube.com/watch?v=ruav0KvQOOg"]
There are many debates in marketing departments around the world on how to make a video clip spread virally on video networks such as YouTube. YouTube says that those clips that do end up being viewed millions of times typically have three things in common – tastemakers, communities and unexpectedness. Tastemakers are those people who "break" the clip, perhaps a famous television host plays the video on their chat show. Communities are the networks of people who share that clip. It is important to recognise that these could be viewers of the chat show, people chatting at watercoolers or, more likely, members of social networks such as Twitter where sharing such content is just a tweet away. The only thing that matters about the content of the clip is that it shows something unexpected – someone singing Space Oddity on the International Space Station, a kid prancing dancing around in their bedroom with a light sabre or a Korean pop artist doing a catchy horse dance.
You also need an awful lot of luck. Plenty of travel and tourism brands spend money on creating video content only to see it viewed by just a handful of people. What brands can do, however, is load the dice in their favour by including people in it who are so globally well known that virality is almost assured. This is what Turkish Airlines have done with their Legends on Board clip, created by advertising agency Alametifarika, based in the Istanbul suburb of Besiktas, and led by their creative director Emrah Karpuzcu.
The clip, which you can see at the top of this article, features the best known footballer in the world – Barcelona's Lionel Messi – and the world's most popular basketball player, NBA favourite Kobe Bryant. This is where an element of unexpectedness comes in: it seems barely credible that the two megastars would both be on the same flight. That aside, the two sporting stars vie for the affections of a young Turkish passenger, initially by showing off their ball skills but later their prowess in building houses of cards and balloon animals.
Turkish viewers are well engaged with online video. 2011 comScore research showed that Turkish viewers watched the fourth highest number of videos when compared to a number of other countries, watching more than 250 clips a month. The country was beaten only by Canada, the US and the UK in terms of online video consumption.
The airline ptu together an infographic (at the end of this article) to show how successful the clip was. Perhaps the most impressive statistic of all contained within it is that the video had been 20 million times within four days of its release; Psy's Gangnam Style took a month to pass that barrier.
The campaign has clearly worked well for Turkish Airlines. Perhaps the most important lesson to learn is that the airline's product and service is not aggressively promoted at all – it uses its humour and megastar wow factor to sell that to you subtly.
Go to Turkey Social Media Campaign Launches
The Turkish Culture & Tourism Office in the UK this month launches a powerful new social media campaign as it looks to build on visitor numbers to the country.
The office already spends 15% of budget on online advertising, and will spend money on Facebook ads in a bid to reach five million people in the UK and Ireland.
The campaign also sees new social media addresses on FB and Twitter to align with the official website, and involves a competition in October and November to raise the profile of Istanbul.
In an exclusive interview for World Travel Market, Ali Selcuk Can, the director of the TCTO office in London, outlines the thinking behind the campaign:
Tell me about the inspiration for the new social media campaign – how did it come about?
As the British use the internet and social media as an everyday part of their lives we felt that we wanted to get involved too in introducing Turkey.
Does it involve new FB and YouTube pages and a new Twitter name – or are you building on previous work?
To accompany our brand-new social media campaign we have announced new social media addresses – www.facebook.com/GoToTurkeyUK and @GoToTurkeyUK with what we hope are more memorable handles and in keeping with our website address www.gototurkey.co.uk. Hopefully we will gather a greater following this way. Yes we are building on previous work but this will be more interactive and of a greater frequency that in the past.
As we know that the British mostly travel to Marmaris, Bodrum, Fethiye, Izmir and Antalya, we are planning to use Facebook's profiling to place customised promotions and advertising to them in a very strategic way.
We are also going to be running a promotional and advertising campaign for Istanbul during October and November, where we'll be offering a lucky couple the chance to win a trip to Istanbul for the Christmas period. We will be aiming to reach five million people via our adverts on Facebook.
If new, as it appears, why not use existing social media?
We felt the need to establish a more cohesive brand that would be instantly recognisable and remembered.
Is the campaign just in the UK or in other countries too?
As this campaign is being run by the UK office, we are targeting the UK market as well as the Republic of Ireland.
How important is social media in promoting Turkey?
Social media is one of the means that we will be using in promoting Turkey as we recognise that it is a vital part of the strategy of promotion in this day and age. In fact the Ministry of Culture and Tourism give it so much importance already that 15% of its promotion is in online advertising.
What other plans do you have to promote Turkey using SM – B-roll video, Instagram or other channels?
In the coming year we plan to use such features of social media as Vimeo, Instagram and Pinterest in addition to Facebook, Twitter and YouTube.
Turkey woos Saudi Arabia with social media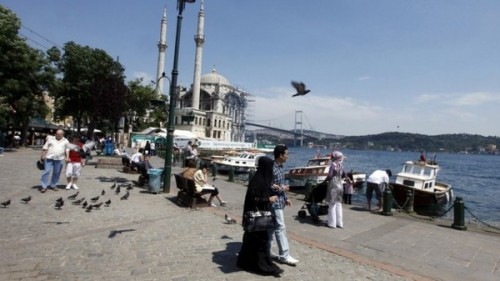 When two countries rank among the highest in the word for social media usage, it is perhaps no surprise that the medium becomes the message to attract more tourists.
Turkey this year said it was looking to double the number of visitors it receives from Saudi Arabia, and is using social media among its methods to woo 400,000 Saudis in 2013.
Saudi Arabia has the highest ranking for social network usage in the world, alongside Mexico, according to an Ipsos survey. And Turkey is third – so it makes sense to talk each other's language.
According to a report in Arabnews.com, 30% of Saudis who intended to travel this summer would have chosen Turkey, despite the country having not previously overtly courted Saudis.
Numbers from Saudi Arabia have risen sharply in recent years, from 81,000 in 2010 to 120,000 and then 200,000 last year.
The rise was fuelled in 2011 by the Arab Spring, with Saudis switching travel from Syria, Egypt and other North African Muslim countries. The French ban on face veils also saw many Saudis abandon visits to Paris.
But the same Arabnews report suggests that as Turkey benefitted from war in Syria, so the protests that erupted in Istanbul in June may have setback plans to increase Saudi visitors, with predictions that numbers may actually fall.
But if not this year, then next, says Turkey. Huseyin E.S, the cultural and media attaché at the Turkish embassy in Riyadh, told another regional website that Turkey was interested in establishing "strong relationships with the Saudi tourism market."
The campaign includes visa-free entry to Turkey as well as billboard ads, extensive use of Facebook advertising and other social channels.
Overall, Turkey is the sixth most visited country in the world, with 31m arrivals last year. By the end of June, 2013, some 14.5m foreign visitors had arrived, a 14.3% increase over the same period in 2012.
Turkey is looking to attract 60m tourists by 2023 and the Middle East is one of its key target markets.
At the Arabian Travel Market in Dubai this year, Turkey took an additional 25% more exhibition space and revealed a raft of improved visitor figures from the region, with visits from the UAE, Bahrain, Qatar and Kuwait.
Interview with MDC Hotel in Urgup
Getting to the top in TripAdvisor's Travelers' Choice for Turkey
It is hard to remember a time before TripAdvisor – it launched in 2000 – but with more than 100 million reviews under its virtual belt, the review site has become the go-to destination for holiday makers looking for information on hotels. This scale means that hoteliers have become desperate to rise to the top of the TripAdvisor rankings for any particular destination or hotel category.
Since the very early part of TripAdvisor's existence – 2002 to be precise – hotels have also vied to appear in the site's Travelers' Choice rankings, which lists the top 25 hotels in a range of countries, including Turkey.
Appearance in the ranking is decided by a number of factors. TripAdvisor's James Kay says ,"The winners [of Travelers' Choice] are based on the more than 100 million reviews and opinions from travellers on TripAdvisor, including traveller ratings for specific categories.  Reviews and opinions are analysed using an algorithm similar to that used by TripAdvisor's Popularity Index taking into account the property's quality overall and for a particular category, according to traveller reviews and opinions, as well as the quantity and recency of content written on TripAdvisor."
This year, the list is a mix of the well known, such as the Four Seasons Hotel Istanbul at Sultanahmet, which comes in first in the ranking, and the lesser known, such as the Gamirasu Cave Hotel in Ayvali, Cappadocia at number three.
The MDC (which stands for Michelle Discovery Caves) Hotel at number seven is a good example of what independent hoteliers can do to get their properties recognised. The hotel, a joint Canadian-Turkish joint venture, has a highly proactive attitude towards reviews left on TripAdvisor, recognising the good and explaining the occasional bad experience.
What is very evident as you look through is that the hotel does not do standard responses from management on TripAdvisor.
A Canadian reviewer thought the hotel just average and submitted en extensive review of the property.
One criticism was that "Even though the place is only 7 months old, it is showing signs of wear (or sloppy construction) already, which is sad."
The hotel's owner and GM Ahmet Küçükyildiz responds, "I do remember your remark about the walls not being perfectly perpendicular and had not realised that you did not understand that the hotel is not a new construction, but renovated Ottoman houses dating from over 200 years old. Of course being a listed historical building in the UNESCO world heritage designated area, only highly-skilled craftsmen were allowed to work to renovate and restore the houses to be converted into a hotel…Hoping to have the pleasure of explaining more of the history of our hotel on your return visit,"
The hotel also responds to the positive comments. One reviewer from South Africa said in his review, "The fruit garden, of which we toured was so enchanting – fresh aubergines, tomatoes, peaches, grapes, apricots… the dining area which spilled out on a lazy terrace was magnificent."
The MDC's front office manager replied, "Our gardener takes tremendous pride in his little "kingdom". I am glad you enjoyed viewing and tasting the fruits of his labour."
Of course, being proactive in responding to reviews only goes so far. What counts too is that the hotel has gathered more than 300 reviews, the vast majority of which rate the hotel as excellent – there are no poor or terrible rankings. And that is as much to do with delivering excellent service in a good property. If, as a hotelier, you feel you have the experience just right then why not encourage your guests to submit reviews – you should have nothing to fear.
[blockquote style="3″]
SOCIAL TAKEAWAYS
TripAdvisor ranks hotels based on quantity and recency of content as well as travellers' ratings
Respond to guests comments, both positive and negative
[/blockquote]
[tabs][tab title ="View from a Turkish blogger"]
Mission possible?: to visit every Turkish town, city and village
Natalie Sayin, who runs Turkish Travel Blog, was born in Zimbabwe but her family moved to England when she was young where they settled in Nottingham. At 16, she left home and spent the next nine years working in a supermarket before taking up the position as a holiday rep in Turkey. She now thinks of Turkey as her home and has no plans to leave. Her aim, according to her blog, is to "visit every town, city & village in this large & beautiful country".Why did you set up Turkish Travel Blog?
To keep an online diary. I am so blessed that I can live in Turkey. It is a wonderful country and I want to look back in the future and remember where I have been. It also serves a useful purpose as a portfolio for my writing.
I see you use WordPress. Do you have any recommendations for plug-ins that you use?
NRelate is wonderful for showing suggested posts to read and I like Digg Digg as a social media sharer.
Are there any good Turkish blogs, travel or otherwise?
There are so many on every topic you can think of: expat living, cooking, travel, language, mixed marriages, culture, traditions. Turkey is a popular country and many people choose to write about their experiences on a blog because the mainstream media is often negative about this destination.
Are Turkish travel and tourism businesses happy to help you when they know you write a blog (rather than writing for a traditional newspaper or magazine)?
No, most do not understand the concept and how many people can be reached. They prefer paid advertising. The companies that I have worked with mostly had foreigners in managerial positions.
Do Turkish people read blogs in general?
The concept is starting to catch on now but that is mainly because of the younger generation.
How much do you use social networks and is there a network that you have to be on if you live in Turkey?
I am on social networks every day but Facebook is my favourite. If you live in Turkey, it is a certainty that you can find groups on Facebook related to your area or interest. For example, Expat living in Turunc or buy/swap groups that expats use.
What are your views on social media in Turkey in general?
Turkey is actually listed as one of the top countries for users on Facebook. However I find that Turkish businesses are slow to understand the benefit of social networking.[/tab]
[tab title ="The view from an expat blogger living in Turkey"]
A guidebook writer who worked on Lonely Planet Turkey for ten years, Pat Yale moved to Turkey in 1998 and now lives in a restored cave house in Cappadocia. The author of the turkeyfromtheinside.com website she has also written A Handbook for Living in Turkey and several Istanbul titles. She is the travel writer for the Sunday's Zaman newspaper and blogs about life on the road in bloggingaboutturkey.com.
I'd imagine connectivity in Turkey has improved since you arrived 15 years ago?
It certainly has! Then, we had dial-up services so slow it was like wading through mud. Now even in my cave-house I have a high-speed connection at least as good as I'd get in the UK, maybe even better. It's very rare to find anywhere in Turkey where you can't get a good, fast connection.
Mobiles – what's network coverage like around the country?
Turks took to mobile phones like ducks to water and these days I'd say almost everyone has a mobile, men and women, young and old. There are three mobile phone companies – Turkcell, Vodafone and Avea. Turkcell offers the best coverage with very few "dead" areas. Most people have contracts but you can also buy pay-as-you-go "kontors" at newsagents, from ATMs or from mobile phone shops.
Are hotels in Cappadocia and elsewhere pretty clued-up now re wifi and broadband?
Absolutely! Most hotels now expect their guests' first question to be what is the Internet "sifre (password)" and some even list it in the rooms. No matter what price category hotel you go for it will almost certainly offer wifi and broadband – only the most expensive chain hotels have the cheek to charge for it. The Turkish for wireless is "kablosuz". Most hotels still have computers for communal use but here in Cappadocia the majority of guests now arrive with their own mobile devices.
Are Young Turks (and older) voracious users of social media?
Yes. Obviously older people struggle more with new media especially in rural areas where some older women may still be illiterate. But you'd be hard-pressed to find a young Turk without a Facebook page and/or Twitter account. When protests broke out all over the country this summer the government was quick to complain about events being coordinated via social media.
And does that refiect in travel information and stories?
One very big change in the last couple of years has been the downgrading of the importance attached to guidebooks in favour of tripadvisor and booking.com. Most hoteliers can tell you exactly where they sit in the ratings on these sites – some get almost all their bookings from booking.com now.
Not so sure about stories. Most information put up by travellers on the social media sites seems to focus firmly on the honeypots – I have stopped looking at photographs of ballooning in Cappadocia as they have become so commonplace. I see disappointingly few stories about remoter parts of the country – which is where I hope that my own website will be most useful.
Social media is great when it comes to news for example of new flight routes offered by Turkish Airlines but we still get disappointingly little advance warning of festivals and other events aside from the big Istanbul blockbusters such as the International Music Festival.
Which network do you use?
I use ttnet, the service offered by Türk Telekom. I suspect most people do the same.
Which three blogs/sites would you recommend for travellers to Istanbul?
Ex-Lonely Planet author Tom Brosnahan's turkeytravelplanner.com website is a great place to start planning your trip.
I'm a big fan of the istanbuleats.com website which does a great job of highlighting the best places to find real, non-touristy Turkish food in what can be a rather overwhelmingly large city.
And finally, www.muze.gov.tr/en is an excellent site for finding out about historic attractions all over the country and for ordering tickets to the most popular sites online to avoid having to stand in queues.
Plus…
One thing holiday visitors to Turkey need to know is that their mobile phones will only work in the country for a couple of weeks. After that the signal will be cut off. The best mobile phones in Turkey can be very expensive so this is intended to stop people importing cheaper versions from overseas. If you want to import a phone for more than a couple of weeks you will have to register it and pay TL115 for the privilege, more hassle than it's worth on a short visit.
Contact Pat at www.patyale.com.[/tab][/tabs]