The world is still in the midst of a global pandemic. And while we all know that travel will likely never be the same again, one thing is certain in the foreseeable future: Cleanliness is the new godliness. This is the path that the hospitality sector is headed as major hotels chains and resorts make their re-opening plans known.
Priorities have indeed swiftly changed over the last few months. In place of highly-coveted star ratings, major hotels are now aiming to get that 'Safe Travels' seal of approval issued by the WTTC (World Travel and Tourism Council). As a much-needed solution that present times call for, the world's first ever global safety stamp has been issued by the WTTC, which the UNWTO (United Nations World Tourism Organisation) fully endorse and support.
The purpose of this specially designed stamp of approval is to allow travellers worldwide to recognise global businesses and establishments that have upheld the health and hygiene protocols established by WTTC.
WTTC is in the process of creating protocols for at least nine industries within Travel and Tourism as the industry adapts to a new normal. There are currently seven protocol reports for different sectors issued, and WTTC will be completing the rest in phases.
In the meantime, we turn our attention to these luxury hotels and resorts that have unveiled their 'COVID-19 ready' plans to welcome guests in the safest way possible.
A health watch program
The Movenpick BDMS Wellness Resort Bangkok has partnered with the highly-respected Bangkok Hospital to launch a 14-day health watch. Guests are offered a 14-day long Urban Wellness retreat package which will have accommodation and full board (three meals a day) provided by the hotel. Bangkok Hospital will provide each guest with an initial consultation by a doctor, daily health monitoring at the hotel done by an in-house nurse, a Cordyceps Mix C and Mushroom extract dosage from the Royal Life Anti-Aging Centre (a supplement that supposedly enhances the immune system), and at the end of every stay, a COVID-19 test will be done.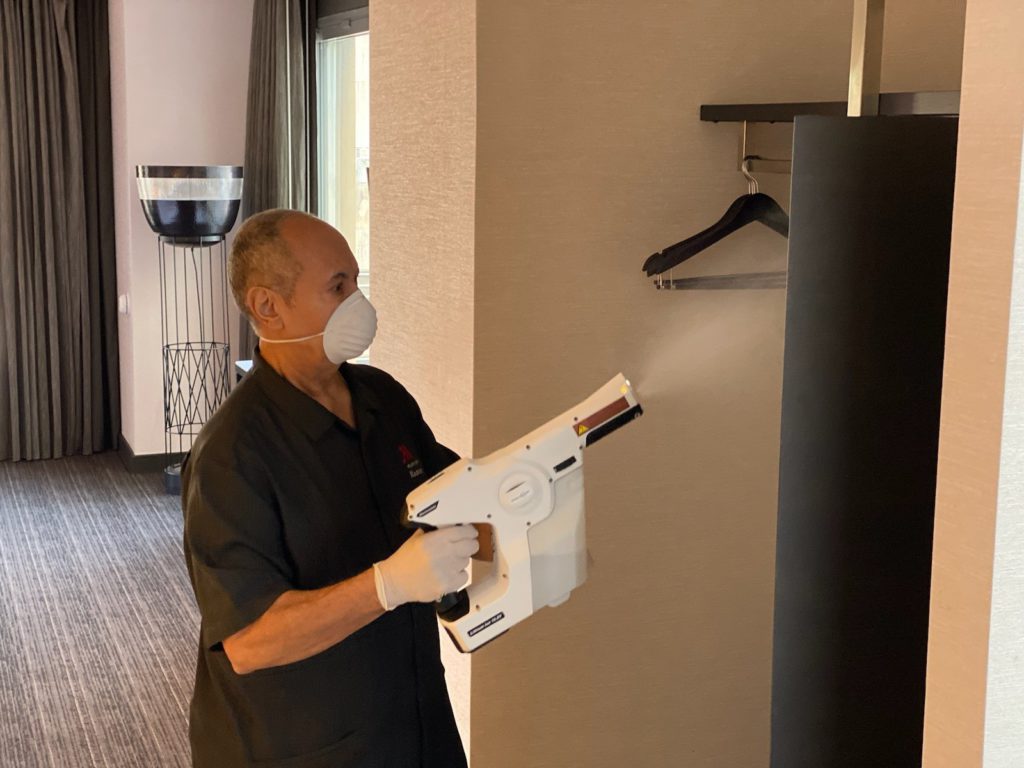 High-tech disinfecting method
Marriott International Properties, whose brand portfolio include: Westin, Sheraton, the Ritz-Cartlon, W Hotels and Renaissance, shared that in their bid to reassure future guests, they are taking disinfecting methods to a more stringent level. Their housekeeping services will now use electrostatic sprayers and hospital-grade disinfectants that are promoted by the CDCP (Centres for Disease Control and Prevention) and the World Health Organisation.  They are also in the process of testing ultraviolet technology for sanitising keys and other accessories shared by hotel staff.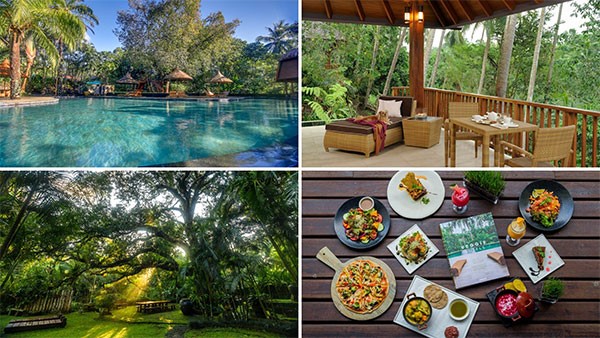 An immune support programme
A holistic medical wellness resort in the Philippines, The Farm at San Benito, has re-opened their doors offering a medically-supervised immune support program. Ranging from 2-4 night stays, the programme includes: a COVID-19 test, accommodation, nutrient-rich organic vegan meals and beverages, holistic treatments for immune system support, microbiome nourishment and mindful movement. To ensure that guests' mental and emotional states are attended to, the programme also offers a psycho-emotional session to alleviate anxiety and panic attacks which may have been brought about during this time of pandemic.
Leading with care
Four Seasons Hotels and Resorts have collaborated with John Hopkins Medicine International, the global division of leading healthcare and research company John Hopkins Medicine to unveil its new global health and safety program, Lead With Care.
President and Chief Executive Officer of Four Seasons Hotels and Resorts John Davison says that "this new program is about offering genuine care and the highest levels of service, enhancing procedures to protect our guests, residents and employees, while also ensuring that they feel safe and reassured."
Four Seasons will also be working closely with EcoLab and International SOS, whom the hotel chain has also partnered with earlier this year in the transformation of the Four Seasons Hotels in New York, Riyadh and Mumbai to house medical personnel.
Some of the enhanced global health and safety protocols that Four Seasons guests can see are:
Appointment of a dedicated Hygiene Officer in every Four Seasons property to focus on implementing enhancements
Public areas cleaned hourly, with special focus and attention to frequented areas such as front desk and public restrooms.
Lead With Care kits that include masks, hand sanitisers, sanitation wipes will be placed in each room. Additional masks will be supplied on demand.
Behind-the-scenes measures will also take place through employee training, additional food handling protocols, and enhancements to ventilation systems.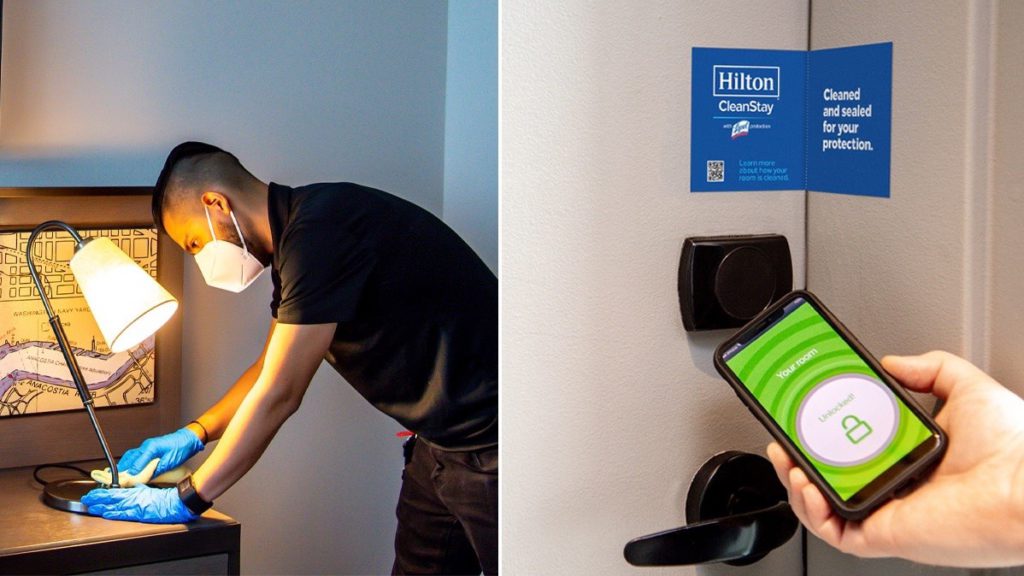 Reaching the zenith of cleanliness
Defining a new standard of cleanliness, Hilton Hotels and Resorts is working with Lysol and Mayo Clinic in order to elevate their hygiene practices. In a first for the hospitality sector, Hilton is collaborating with RB, maker of Lysol and Dettol, and also consult with American non-profit academic medical centre Mayo Clinic in order to develop progressed practices from check-in to check-out.
With the help of medical and technical experts from Mayo Clinic, Hilton is re-writing their cleaning protocols in order for guests to receive hospital-grade hygiene standards in their hotel rooms. A team of medical experts from the Mayo Clinic COVID-19 response team will assist in training development, advise on new technologies and approaches and also create a stringent quality assurance program.
A few of the key changes that guests will experience under this heightened Hilton hygiene standards are:
The absence of pen, paper and guest directories in rooms. They will be replaced with a digital equivalent or will only be provided upon request. Fitness centres will be possibly closed multiple times during the day for cleaning, and only a limited number of guests can use at the same time. There will be contactless check-in as Hilton will continue its use of their award-winning Digital Key technology for guests to be able to check-in, choose their rooms, and access their rooms through their mobile devices.
The world is still in the throes of fighting the COVID-19 pandemic. As it stands, the global and tourism market is seen to have a loss of 100.8 million jobs worldwide in 2020.
As health and hospitality brands fervently go hand-in-hand in creating the safest procedures in welcoming guests, it is our best hope that their committed efforts will bring the hospitality industry back on its feet.
You may also be interested in…