WHEN I say jump, JUMP! And that's just what my Faroe Islands guide did immediately, in response to a click on my laptop at home. Possibly the most digitally entertaining tourist board in the world, the Faroes were brilliantly creative again when the coronavirus grounded travel.
The guides were equipped with a live GoPro camera, allowing virtual visitors to see through their eyes and to request the guide to turn, walk, run – and jump. Mine was on foot in the edge of a village, others on horseback, in a boat, even a helicopter, being guided a minute at a time by virtual tourists.
The Faroes have been smart in tourism marketing for years: in 2017, they won our annual challenge at World Travel Market to find the Best Social Media project of the year. Their language was not on Google Translate, so they created The Faroe Islands Translate project whereby visitors could learn the language via Faroese residents on video. Clever.
When travel shut down in March, the islands – along with a large part of the world – turned to virtual tourism to remind tourists what they were missing, while banking goodwill for when they can travel for real.
Virtual as a medium is taking a huge leap in recognition after years of struggle. A big breakthrough was Facebook launching its Oculus Rift headset in 2016, but sales were initially sluggish  mainly due to the cost of the headsets.
And a year ago, in another blog for WTM, I said how virtual and augmented reality (adding information or video to your smartphone in location) were again failing to progress rapidly.
Headsets enable you to ski Colorado or dive the Indian Ocean, watching a 360-degree film that moves as your body does. Now virtual is more broadly understood to embrace any form of digital media that takes you there, over and above video.
Historically, this includes a 3D film of climbing the summit of Mt Everest or a walkthrough of Buckingham Palace in a virtual tour. Now there is in an explosion of virtual ideas through your phone, iPad or laptop.
The Faroes combine real-time cameras with human commentary and visitor control, a clever twist on virtual. Here are five other examples of how the lockdown has driven creative imagination to woo future travel:
Airbnb has created online experiences. As in a webinar, you can join Angie and her sheep in New Zealand and learn the basics of spinning wool, knitting and felting on film and ask questions. Does it encourage travel? One viewer, Sarah, left a review this week: "Thanks so much for the experience! I'd been craving some outdoor time and have long dreamed about visiting NZ. The sheep are such characters, especially when they'd keep busting into frame and nuzzling Angie to get her attention. When I'm able to travel again, I'd love to come visit."
The Egyptian Ministry of Tourism has been busy in the run-up to the opening of the Great Egyptian Museum in Cairo, now delayed until 2021. There is a whole series of new virtual tours of existing treasures, including the tomb of Queen Meresankh III and that of King Ramses. I can't wait to visit the new museum…
Hans Rooseboom, curator of photography at the Rijksmuseum in Amsterdam has written an excellent article in The Guardian on how to visit the city during lockdown. New virtual initiatives at his museum include Masterpieces Up Close, an interactive platform exploring 18 paintings, including Vermeer's The Milkmaid. The insights are fascinating.
Five travel bloggers with nowhere to go have banded together to create Armchair Travels, a compilation of all things virtual. My current favourite is the best garden experiences: check out the livestream from the Chicago Botanical Garden and do also scour the National Garden Scheme's efforts to bring you spring flowers during lockdown. You even get a look at Alan Titchmarsh's Hampshire garden.
Also in the UK, Visit Dorset is typical of regional tourist boards looking to virtual content to spread positivity during lockdown. Indeed, it has renamed its Twitter account Virtual Dorset, while the website promotes Dorset webcams, virtual tours of Bovington Tank Museum and Minterne Gardens and Google Earth features. Neatly, it also has wildlife wanders and wellbeing walks with Dorset countryside rangers.
There is no doubt the lockdown has unleashed creativity, with experienced digital players like the Faroe Islands and the Rijkmuseum ahead of the game: the latter also being quick to follow a new trend from the Instagram account Between Art and Quarantine. The account imitates art with household objects, with very entertaining results.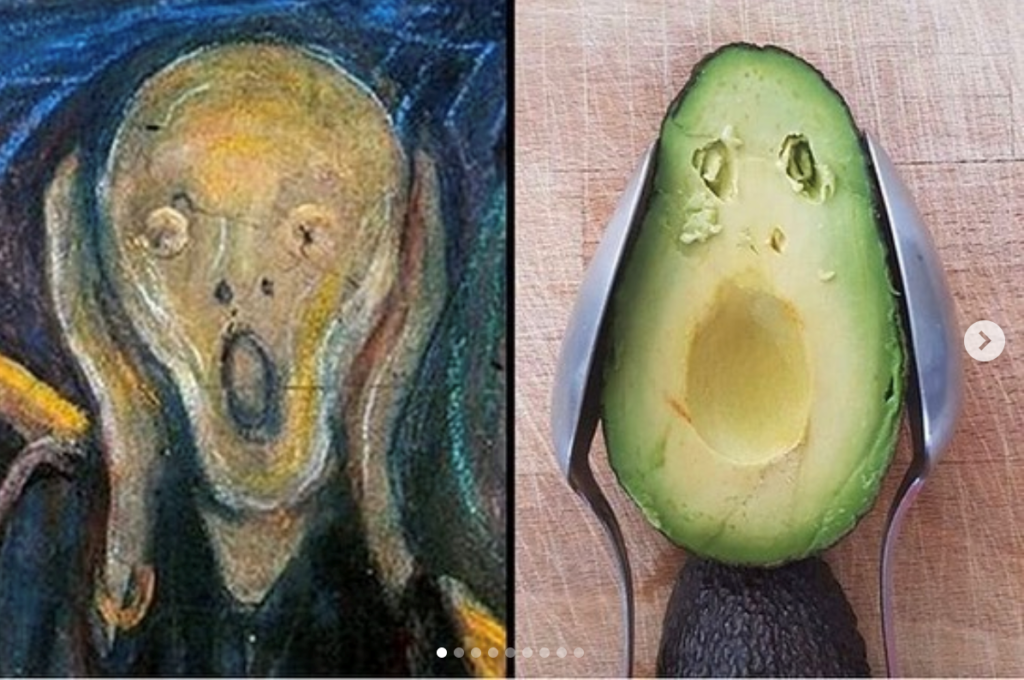 The Rijksmuseum, and The Getty Museum, jumped on the bandwagon, proving the life does imitate art. One posting from Amsterdam even featured Vermeer's The Milkmaid in different form.
Meanwhile, The Getty challenged people to recreate a work of art with objects and people in their homes – with these rules. 1) Choose your favourite artwork 2) Find three things lying around your house 3) Recreate that artwork. One interpretation of The Piebald Horse, a painting seen in The Getty, result is below:
Will this flush of creativity disappear once the lockdown is over? Some think it already is on the wane: "I think virtual and armchair travel is already dying out – we're a bit over that," said Paul Charles of The PC Agency this week. But the former Virgin and Eurostar PR chief does warn that travel as we knew it won't resume until later this year or into 2021.
That's a long time to wait. And a long time for travellers to plan where they really want to go next. Virtual won't replace travel but it will inform and, through sheer creativity, entertain and inspire – the smart digital museums will certainly raised their profile.
But there will be fewer planes, the increased awareness of environmental concerns, social distancing for some time to come and a fear among many about travelling again. It's too easy to dismiss virtual, says Lee Bacon, head of digital at the BBC's Natural History Unit.
"Even viewing nature digitally has been scientifically proven to help peoples' mental wellbeing, which feels especially important right now," said Lee in a BBC article on virtual travel:"We're always looking to use new innovations for deeper immersion, whether that means VR or Slow TV. With people travelling less, it could be a big moment for this kind of technology."
You may also be interested in…