Luxury during a global pandemic. Is there such a thing? Moreover, is it even proper to think about luxury at this time? For some, musing about and indulging in small luxuries is an escape from difficult times. If you're in the luxury travel industry, this is a crucial time to reflect.
COVID-19 could very well be the biggest and most difficult setback the travel industry has ever experienced. UNWTO (United Nations World Tourism Organisation) Secretary-General Zurab Pololikashvili has stated that with this global pandemic, tourism is among the hardest hit of all economic sectors.
Looking at the figures, the UNWTO has predicted a decline in international tourism between USD $300-450 billion, which is almost a third of what was generated in 2019 ( USD $1.5 trillion).
When they analysed previous market trends, they found that this means COVID-19 could bring about a loss of five to seven years' worth of growth.
We are currently in the midst of riding out the pandemic, and while it is too early to make a full assessment of the impact COVID -19 will have on tourism, those of us who are in a current business standstill can use this time to think about how we can move forward.
Travel brands can get involved
Since the dramatic increase of COVID-19 globally, governments worldwide have started working on medicalisation of hotels. This is needed in order to ease the strain hospitals are facing as they struggle to fulfil the beds needed as COVID-19 rapidly spreads.
The pandemic has seen many governments exercise the right to obtain more powers in order to requisition private buildings in times of crisis. In the United Kingdom, for instance, the Civil Contingencies Act 2004 allows the government particular powers during times of emergencies which involve loss of human life. On March 2020, the government of Spain declared a State of Alarm and issued a Royal Decree (463/2020) which allows the Minister of Health to ensure they have all provisions in order to protect the public health. One of these measures is the temporary occupation of premises to contain the virus spread. 
In New York, one of the very first hotels to respond by opening its doors to healthcare workers was the five-star Four Seasons Hotel on 57th street. Ty Warner, chairman of the company that owns the Four Seasons said in a statement that he offered the hotel for New York to use after hearing a call to action made by New York Governor Andrew Cuomo.
Governor Cuomo then publicly acknowledged and thanked the Four Seasons New York in a tweet:
And this inspired other hotels in New York to follow suit. Less than 24 hours later, Governor Cuomo shared an update that more NYC hotels have provided help. The Plaza, The St. Regis, and YOTEL announced that they would provide their facilities for non-critical care patients and medical personnel.
If your hotel or company is not in a capacity to shelter people during this time, there are many other ways to help. For instance, the Kimpton Fitzroy London is serving free breakfast and lunch to healthcare emergency workers. In Las Vegas, major resort and hotel brands including Caesars, MGM and Wynn, have donated more than 400,000 pounds of food to local charities.
In Sri Lanka, Theva Residency and Flameback Eco Lodge have chosen to support their local communities with food during the lockdown period.
Help doesn't have to be monetary. The Hari in London is also offering to make grocery, pharmacy and post office runs for those who need help.
The effort to help goes beyond hotels. ExCeL London, (where World Travel Market London has been holding its tradeshow since 2002), now houses the world's largest critical care unit. NHS Nightingale is Britain's first COVID-19 pop-up hospital and was built within ExCeL London in just nine days.
Expect more time online
Since the announcement of travel bans, restrictions and lockdowns in most countries, there has been a significant decline in global air traffic. According to this study by Severe Weather Europe, the number of flights at the end of March is 60 percent lower than usual.
To illustrate this point, have a look at the flight traffic over Europe captured approximately a month apart: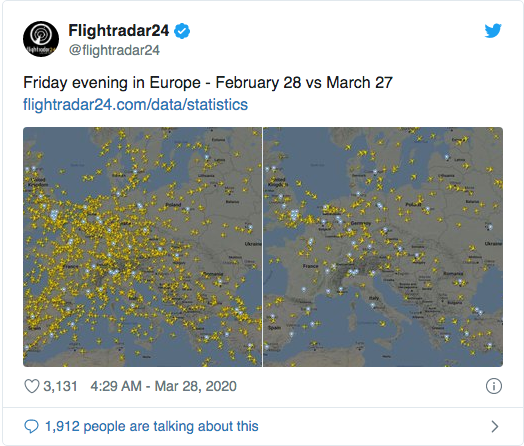 Currently, majority of flights operating are special flights delivering medical supplies and equipment around the world.
And as travel has come to an almost sudden halt, our habits and lives have also changed very quickly over the past few weeks. There's a very strong possibility that these changes are not temporary. Our lives, including the way we travel, will most likely never be the same again.
One such change foreseen by the Imperial College London is that governments worldwide may need to turn lockdown measures on and off to keep healthcare systems' demands at a manageable level. This will outrageously change peak and low seasons in travel and will most likely make travel more expensive.
Due to these reasons, it is highly probable that most businesses and events will continue to be conducted online.
Sathia Moorthy, The Leading Hotels of the World's Director for Southeast Asia foresees that more online related events and tradeshows could happen. Some organisations that never thought work from home could be possible in the travel industry may adopt this set up.
This has already started. Hospitality Tomorrow, a virtual conference in the hospitality industry (which happened on April 7th) to discuss the impact COVID-19, has seen over 4,000 hospitality industry professionals register.
Focus on local
The World Tourism Organisation (UNWTO), working closely together with the World Health Organisation, has estimated that in 2020, global international tourist arrivals could decline between 20-30 percent.
And while it really is still too early to make calculated predictions, it can only be assumed that for the foreseeable future, domestic travel and tourism will be the focus for most countries. And since some countries have locked down cities and states, domestic travel may mean within a town, city or state. This assumption goes hand in hand with information that most of the world's airlines are being grounded by the Coronavirus.
Luxury will likely be redefined
Over the last five years, we have seen trends in luxury travel change at quite a fast pace, with all the changes happening organically without a major disruption like a global pandemic.
It wouldn't be surprising therefore, that what the market has perceived to be luxury travel will once again get re-defined. Exactly what these changes are remains to be seen, but Druvi Gunasekara, Managing Director of Boutiques in Sri Lanka, shares her outlook. "Tourism will bounce back, and travellers will likely feel more secure in opting for more private accommodation in villas and small boutiques as opposed to high inventory properties until confidence returns."
She also adds that local agents will be the ones who will need to go the extra mile to ensure guests are safe from the start of their itinerary until departure.
The past years saw a focus on adventure and personal experience in luxury travel trends. Moving forward, will there be a focus on health and hygiene? It will be interesting to see how luxury travel will be re-defined once again.
Keep your presence on social media
Now that most people are indoors and very likely spending their time online, there's no better time to make your brand's social media presence felt.
And what exactly does a luxury travel brand post on social media in the midst of crisis and uncertainty?
There are two travel brands that stand out in maintaining their social media presence at a time like this. They were careful not to be blatant in marketing luxury during this time yet provided an aspirational and reassuring message to their target market and clients.
One is British leisure travel group TUI Travel. First, they posted a short and simple message right after they had to suspend majority of all travel activities to comply with requirements from respective governments that they travel to.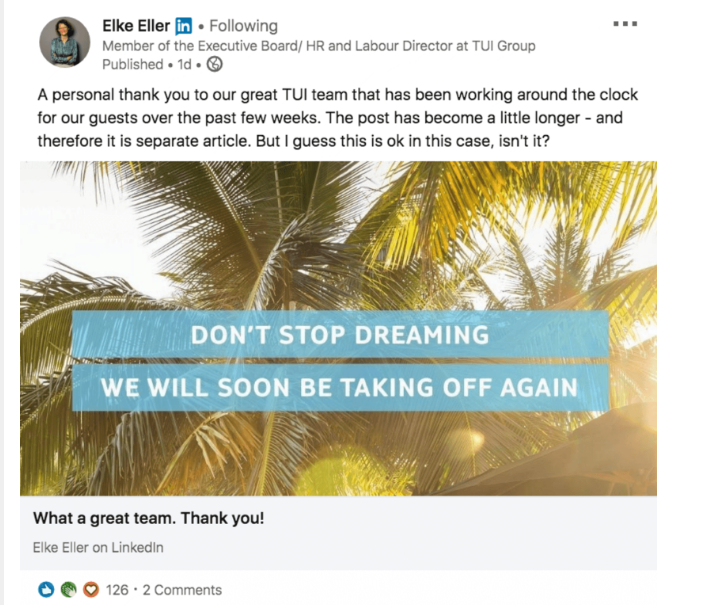 It's a simple message that provides encouragement and reassures clients that they will be back to business when things are better.
More than this message, what makes the TUI Group impressive is their transparency and real-time update on their webpage. They keep regular updates about retrieval operations, bringing their clients safely back home. They also created a video of TUI Cruises' farewell of their last guests before the travel restrictions.
Virtuoso Travel has also provided a similar message on their social media pages.
And on top of this, Virtuoso Travel has made the best use of its company blog during this time, posting very timely articles like "How to Stay Social While You're Social Distancing" and "What We're Doing Until We can Travel Again", which not just gives tips on what people can do at home, but also encourages travellers to stay home.
While we are no doubt facing uncertain times in the industry, one thing is known: Tough times don't last so this will pass. In the meantime, stay hopeful and healthy. There's still World Travel Market 2020 to look forward to!
You may also be interested in…