So farewell then Vine, your life has been almost as short as the clips you host.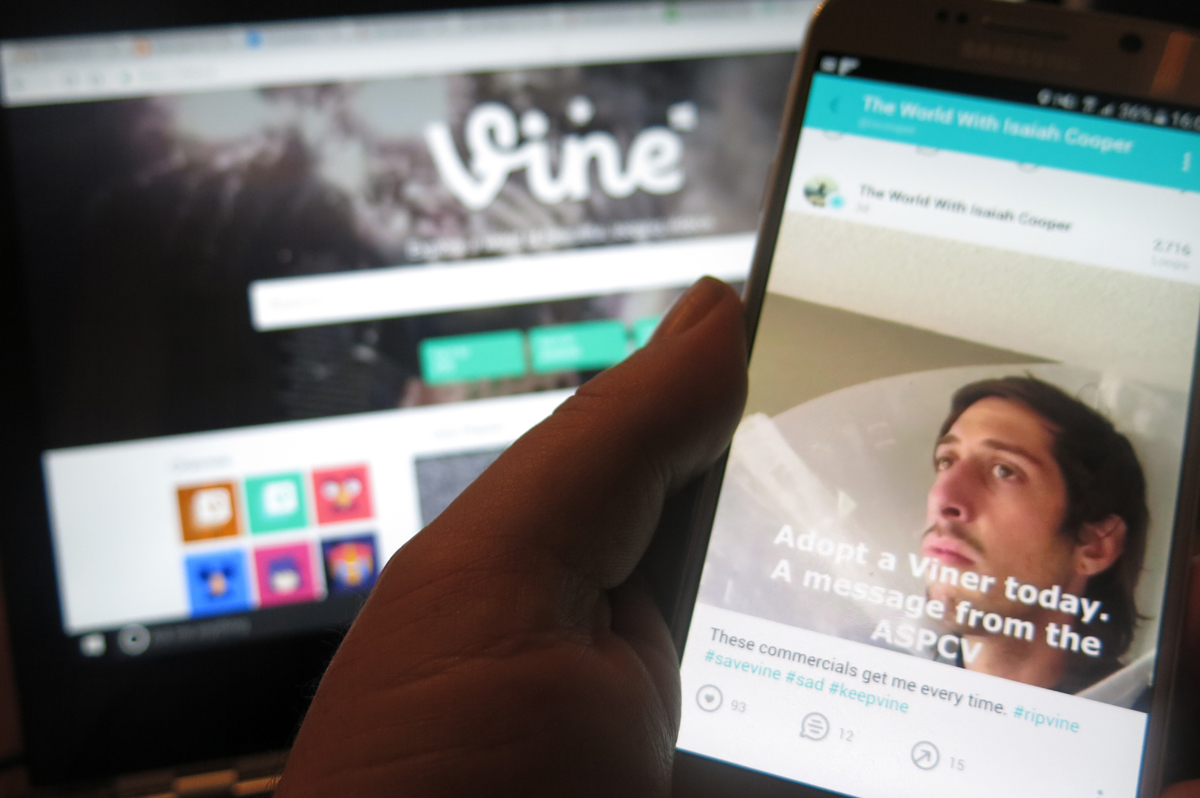 The platform, which enabled users to create short, looped videos of up to six seconds, is to be mothballed, according to a post this week on the company blog.
The company, now owned by Twitter, said, "Since 2013, millions of people have turned to Vine to laugh at loops and see creativity unfold. Today, we are sharing the news that in the coming months we'll be discontinuing the mobile app."
Many Viners were not happy.
Salmon of the Lord said, "You're destroying a place where people let their imagination run wild. Where creati
vity is born. Just because you couldn't make it work doesn't mean you should destroy it."
Space Soldier added, "Just when I thought 2016 couldn't get any worse."
So what has gone wrong?
Certainly video has gone crazy since 2013, with Instagram adding support in 2013 and Vine parent Twitter acquiring and launching Periscope in 2015 and Facebook launching Live to influencers in 2015 and to the world this year. That competition certainly took the shine off Vine.
In the early days, travel companies, travel bloggers and travellers were all over vine, however.
Disney was an early convert to the platform and launched a competition for Viners to show their "Disney side" in a 2013 competition. There were hundreds of entries, possibly attracted by $1,000 prize and the chance of scoring a $10,000 commission to create a series of Disney Side videos. The creativity shown was incredible, as evidenced by this and this.
Before the South Africa hotel group Protea was bought by Marriott, it carried out an innovative campaign called Protea Doors, which purportedly showed what goes on behind closed doors in the hotel's bedrooms. The clips were light hearted and some a little edgy, including one of South African YouTuber Anton Taylor twerking. According to Protea's group marketing director at the time, the campaign generated more than a million opportunities for the brand to be seen online during the two months in which it was running; the groups' Twitter and Facebook channels were also boosted by the campaign. Since the acquisition, he campaign website has been taken offline and the Vines are no longer available to view.
Some travel bloggers dabbled with the platform for a while, such as Victoria Brewood of Pommie Travels and Keith Jenkins of Velvet Escape.
There are also thousands of Vines created by travellers themselves, using the hashtags #6secondpostcard, #vinecation and, of course, #travel.
Six second limit you say? Meh, said AirBnb as it encouraged content creators to take part in a crowdsourced movie about a paper plane. The sharing economy darling sent out instructions on Twitter asking more than 100 Viners to produce a series of six-second Vines which it then combined into one epic clip. Quite what the final film , known a Hollywood & Vines, has to do with AirBnb is anyone's guess (an exhortation to get out and travel perhaps?) but there is no denying that it is a beautiful short.
One of the most prolific travel bloggers on Vine has been Isaiah Cooper. His reaction to the news of Vine's shutdown is poignant and is perhaps the last word on the subject.
Or is it?
Another person, Rus Yusupov, was also a little upset at the news about Vine. Why is that important? He is one of Vine's co-founders. On hearing the news from TechCrunch rather than Twitter, Yusupov tweeted, "Don't sell your company". Ouch.
But wait. What's this? Meet Hype. The name may worry travel companies and influencers a little as they wonder whether to invest time and money into yet another video platform. Yet the company has impeccable credentials: it has been developed by the co-founders of Vine…
Here we go again.