Artificial intelligence has the potential to be as transformative as the introduction of computers – and the travel industry stands to benefit. Jenny Southan explains
Over the past few years, early adopters within the travel industry have been quick to notice the potential of artificial intelligence. IBM's AI platform Watson, for example, has a product called Conversation that can be used to build chat bots that operate on instant messaging platforms such as Facebook Messenger, Slack and WhatsApp. They are a way of engaging with customers in a way that feels real but that doesn't require a human to sit there all day answering questions. Today, many companies and airlines have employed them to give advice, make searches and even bookings – from Hyatt Hotels, British Airways and Air New Zealand to Expedia, Skyscanner and Kayak.
How is Kayak using AI to improve the customer experience? Chief scientist and vice-president of technology, Matthias Keller, says: "With the decline of high-street travel agents, it is important to find new technology to fill the gap. Our bot can help find the best flight, hotels and cars, and also suggest new travel destinations through Kayak Explore. Search results can directly be shared with friends and groups within Messenger, and users of Kayak Trips can receive flight status notifications. Kayak Travel Planner simplifies group travel by allowing organisers to set up polls for destinations and travel dates."
Last summer, cloud-based software company TravelClick unveiled its Guest Messenger platform, which allows hoteliers to send marketing messages via text to guests, as well as communicate with guests via Facebook Messenger and WeChat.
You rang, m'lady?
One of the most playful applications of AI in travel has been in the design of hospitalityrobots that can perform the job of receptionist, concierge, luggage porter, cleaner and butler. They are finding work in airports (such as Seoul Incheon and Sydney International), restaurants (such as Zume Pizza and Cafe X in California) and hotels around the world. At the Hilton McLean hotel in Virginia, there's Connie the robot concierge, powered by Watson, while in Singapore, there are two Hotel Jens with Relay droids designed by Savioke.
The M Social Singapore (part of Millennium Hotels and Resorts) also has a couple of Savioke robots. Chief marketing officer Franck Kermarrec says: "We have strongly embraced AI, particularly in Singapore, where the move to implement technology in hospitality is more advanced than in other parts of the world. Working with industry partners, we developed our robots, Aura and Ausca, to increase productivity, optimise operations and enhance guest experiences. An internal audit has shown that they save at least five hours per day."
As well as Botlr robots and a ChatBotlr, which lets guests make simple requests during their stay via text message, Marriott's Aloft brand has been innovating in the area of voice recognition by installing iPads in guest rooms that can control the temperature, lighting and turn on music simply by speaking to Siri. Since launching voice control technology at the Aloft Boston Seaport and Aloft Santa Clara in 2016, other hotels have followed suit. The Wynn in Las Vegas, for example, now has Amazon Echo speakers in every one of its 4,748 rooms.
Toni Stoeckl, vice-president of distinctive select service brands for Marriott International, says: "We see AI as a way to empower our associates to deliver an ever-higher level of service that goes beyond personalisation into anticipating the needs of our guests.
"With less time spent on routine tasks and armed with data, AI helps to create deeper, authentic face-to-face relationships with our guests."
Clever stuff is going on behind the scenes too. Last summer, hotel booking engine provider Avvio announced "the world's first direct booking platform powered by artificial intelligence". Not long after, leading hospitality distribution company DHISCO partnered with AI-based travel platform Zumata to expand the global reach of both companies' hotel buying and selling partners.
There is no doubt that AI is now becoming genuinely useful and powerful. Paul Daugherty, chief technology officer, Accenture, says: "AI is poised to transform business in ways we have not seen since the impact of computer technology in the late 20th century. As AI matures, it can propel economic growth and potentially serve as a powerful remedy for stagnant productivity and labour shortages of recent decades."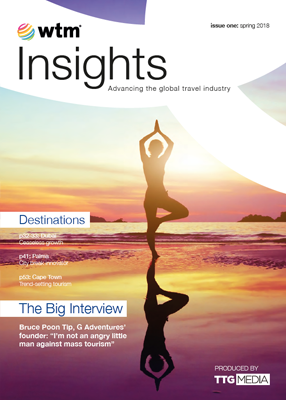 This article is from the latest edition of WTM Insights, the new quarterly magazine on global travel trends, analysis and updates from TTG Media and WTM.