Now that Palma de Mallorca has reinvented itself as a city break destination, Katherine Lawrey finds out how the city is refining the visitor experience.
Encouraging visitors to disperse throughout the city of Palma is a key priority for the city's tourism board, Fundacion Turismo Palma 365, with two new projects in place this year to help it do so.
The Fundacion is working with its Wi-Fi provider and with Harvard University to define heat maps that will show in real-time where tourists are gathering in the capital of the Balearic island of Majorca. A bot will interact with visitors as they connect to Palma's free Wi-Fi network, recommending alternative routes and locations when the most popular thoroughfares for tourists are crowded. The city's population can swell by as many as 20,000 people on a summer's day when multiple cruise lines are in port.
Pedro Homar, managing director of Fundacion Turismo Palma 365, said the new technology had a dual purpose: "It's a way to enhance the visitor experience and it also filters the benefits of tourism into other parts of the city. Palma is a very comfortable size for exploration. It's easy to walk around – you don't need a car."
Another initiative helping tourists discover more of the city is a new catalogue of emblematic shops published in January. To qualify for inclusion – and tax benefits – shops have to meet three criteria: they have to have been in business for 75 years, they have to be housed in a historic property, and they have to be a family-run concern.
Homar says: "This is vital to preserve the personality of the city. In the past year alone, three new Starbucks have opened in Palma. They are franchises owned by locals and it is a free market, but we lose when a percentage of the profits go to [US-owned] Starbucks."
City break success
Since 2012, Palma's tourism strategy has been focused on growing the city break market. This master plan enabled the city to compete with the likes of Porto, Lisbon and Valencia and extend its tourism proposition into the low and mid-season months of October to April.
It was a bold move – considering hoteliers had to change their model of operation to stay open year-round. But six years down the line a steady increase in both room nights and revenue proves it was a smart move. Room nights increased 8% between October 2016 and April 2017 compared with the same period 12 months earlier.
"The strategy is working – absolutely," says Homar. "Our connectivity, which was limited in 2012, has increased heavily in the past five years, particularly in the low season. Jet2.com had 32,000 seats to Palma this winter.
"We've also upgraded the quality of our hotels – we now have 21 five-star service-focused boutique hotels in historic buildings. One hotel, Sant Francesc, was advertising rates of €225 per night in February, which indicates the demand for this style of property.
"A year ago we carried out market research with 12,000 visitors, mainly European, and 98% said they would recommend Palma as a city break destination. Now we want to consolidate this model and not lose focus – which is why we are working with four Michelin-star chefs to promote our gastronomy offer in key markets."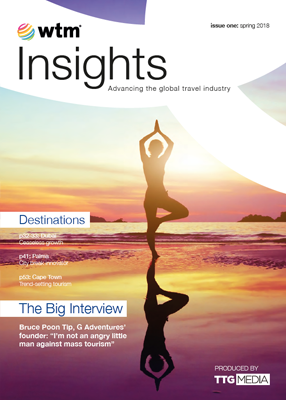 This article is from the latest edition of WTM Insights, the new quarterly magazine on global travel trends, analysis and updates from TTG Media and WTM.
Find out more about WTM Insights.