In one of the many presentations made at our inaugural Social Travel Britain conference in Salisbury over the past few days, Dr Philip Alford of Bournemouth University said that maybe it was time to invert the traditional marketing funnel .
The concept of the marketing or purchase funnel has been around for a long time – longer than many people realise. It was first conceived by the American advertising guru E. St. Elmo Lewis at the end of the 19th century and is generally considered to represent the customer journey through four stages:
Awareness, where a potential customer is attracted to a product
Interest, where that attraction is turned into a genuine interest
Desire, where the customer is convinced of the need to purchase
Action – where the customer buys the product
In the years since its conception , the funnel has been adapted and has had additional stages added. For example, the stages of loyalty (the repeated action of purchase) and advocacy (where you start telling others to buy the product) are often added below these.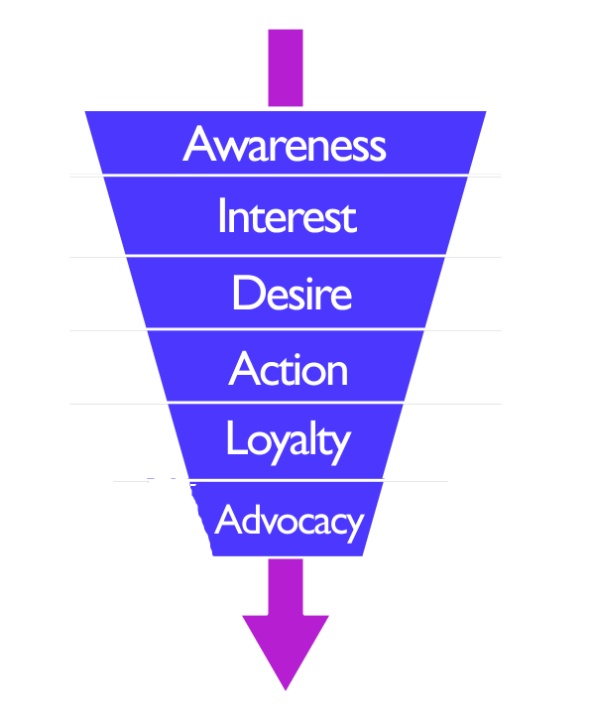 The idea is that companies need to get lots of people into the top of the funnel in order for a good number of people to reach the action stage, and preferably the loyalty and advocacy stages.
Yet what Dr Alford argued was that maybe it was time to think about inverting this funnel. Traditionally, holiday companies have spent large sums of money on raising awareness – through things like television adverts, billboards and brochures – so that people know about them.
With marketing budgets under pressure, perhaps it is time to turn conventional thinking on its head, he says, and focus on the advocates.
The advocates that Dr Alford was talking about were sitting in the room, in the form of travel bloggers, Instagramers and other social media influencers. His argument was that by focusing on such influencers, companies could take advantage of reduced marketing costs because of their extensive reach. His suggestion was to use social media monitoring tools like TrueSocialMetrics to identify people who can make a difference.
It is an interesting concept. The most influential travel bloggers, YouTubers and Instagramers all have extensive networks and it is for this reason that many destination marketing organisations and tourism businesses were also at the conference – to see if they could amplify their own messages through those influencers.
The sad thing for the influencers is that companies see this as a cheaper route to reaching the goal of getting people to buy. Certainly, only a handful of social influencers have managed to take decent chunks of marketing money from travel and tourism businesses to take advantage of their networks.
Instagramer kim.ou (instagram.com/kim.ou), who also spoke at the conference, was a case in point. Twice chosen to appear on Instagram's suggested users list for her pictures of model cars taken in various locations around the world, Kim has more than 50,000 followers and has mostly been given free 'swag' –  clothing, watches, a laptop –  rather than actually being paid to promote brands. She now feels as though she has enough stuff.
There was clearly a desire from the other influencers in the room to make money and many are recognising that brands are willing to pay, although perhaps not as much as they did on TV ads and the like in the past.